AARON GILLESPIE PREMIERES MUSIC VIDEO FOR
"WE WERE MADE FOR YOU"
VIDEO DEBUTS EXCLUSIVELY AT GODTUBE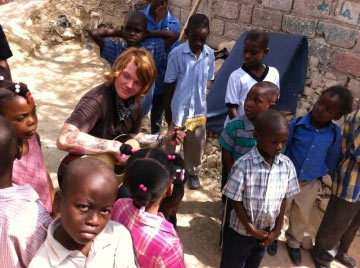 Aaron Gillespie in Haiti at the Jesus' Name Orphanage
NEWS SOURCE: Overture Media
March 24, 2011
SEATTLE, WA--March 24, 2011-- Aaron Gillespie is launching his debut single's music video, "We Were Made For You," produced by Billy Graham Evangelistic Association and Samaritan's Purse, today exclusively at GodTube.com. Click here to view the video.
Last month musician Aaron Gillespie traveled to Haiti with Billy Graham Evangelistic Association and Samaritan's Purse to see first-hand the work of the organizations, as well as to tape a documentary that will debut this summer. Gillespie hopes that this music video and the upcoming documentary will bring back an awareness to Haiti since the 2010 earthquake as well as the work of BGEA and Samaritan's Purse.
"God's heart is humanity, and you really find it in Haiti. We are so convinced that we have it all figured out here, with our prosperity and all of our stuff, but we don't. Gods heart is waiting, go find it," shares Aaron Gillespie upon returning from his trip.
The Billy Graham Rapid Response Team and Samaritan's Purse deployed within 24 hours of the tragic earthquake and has maintained a strong presence in the country since. The two groups are meeting the physical, emotional and spiritual needs of the families that have been affected by the earthquake. Samaritan's Purse has provided shelter for more than 10,000 families and over 50,000 Haitians.
Gillespie and his wife, Jamie, visited various areas and worked with these organizations to learn more about the country and the current situation. Areas that Gillespie visited include the small villages of Titanyen and Simonette, Jesus' Name orphanage as well as the Samaritan's Purse Cite Soleil Cholera Treatment Center.
While visiting the Jesus' Name orphanage, the director Jean Louis Esaie and the children personally touched Gillespie and his wife. While they were visiting, they saw the urgent need for a new latrine at the orphanage. The funds raised will go to this and other immediate needs at Jesus' Name. A portion of the music video includes Aaron playing with the kids from Jesus' Name. Also launching today is a micro-site, which includes a trailer for the documentary, exclusive photos from Aaron's visit to Haiti, plus links to how you can join Aaron in helping the people of Haiti. You can visit www.ransom.tv/AaronG
For more information on Aaron Gillespie, follow him on Twitter @AaronRGillespie as well as on his Facebook http://www.facebook.com/AaronRGillespie. His solo debut, Anthem Song, is available now in stores and digital outlets. He is also touring nationwide - check his website for dates near you. http://www.aarongillespie.com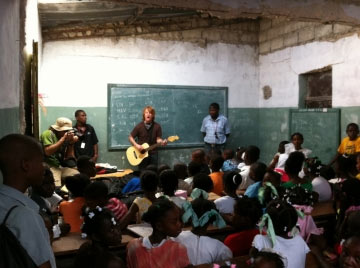 - ### -
About Billy Graham Evangelistic Association (BGEA)
BGEA proclaims the Gospel of the Lord Jesus Christ throughout the world by every effective means available. From its headquarters in Charlotte, N.C., BGEA directs a wide range of domestic and international evangelism ministries, including: large-scale Festivals led by evangelists Franklin Graham and Will Graham; Dare to Be a Daniel, a youth evangelism training project; My Hope World Evangelism Through Television; the Billy Graham Rapid Response Team, offering the hope of Jesus Christ in the midst of tragedy; and many others.
About Samaritan's Purse
Samaritan's Purse is an international Christian relief organization that provides immediate, no-red-tape response to the physical and spiritual needs of individuals in crisis situations - especially in locations where few others are working. Samaritan's Purse has worked in more than 100 countries to provide aid to victims of war, disease, disaster, poverty, famine and persecution.
For more info on Aaron Gillespie, visit the JFH Artists Database.


[2021]
Jan. | Feb. | March | April | May | June | July | Aug. | Sept. | Oct. | Nov. | Dec.
[2020]
Jan. | Feb. | March | April | May | June | July | Aug. | Sept. | Oct. | Nov. | Dec.
[2001 - 2020]
Visit our complete MUSIC NEWS ARCHIVE