BRANDON HEATH ANNOUNCES FALL LEG OF
'THE LEAVING EDEN TOUR'
Special Guest Britt Nicole Joins Two-Time GMA Male Vocalist Of The Year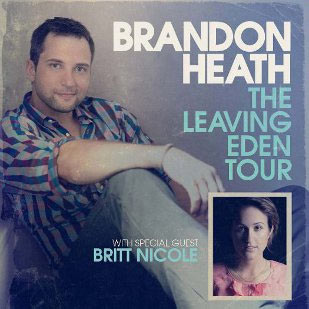 NEWS SOURCE: Provident Music Group
May 19, 2011
(Nashville, Tenn.) May 19, 2011 – Reunion Records' cornerstone artist Brandon Heath, twice-honored as the Gospel Music Association's Male Vocalist of the Year, brings the stories, messages and meaning of his most recent project Leaving Eden (1/18) to life again this fall, as his "Leaving Eden" tour makes its way around the U.S.
Heath's amazing skill as singer and songwriter has continued to be bolstered by his presence as a live performer, most recently on the Shelter Tour with label mates Jars of Clay and Heath's own headlining tours. Crowds have been caught up in experiencing hits such as "Your Love," the song that recently held an 8-week run in the No. 1 chart position, and "I'm Not Who I Was" as well as the 2009 Dove-winning Song of the Year "Give Me Your Eyes"
This fall, Sparrow Records' artist Britt Nicole joins Heath as the "Leaving Eden" tour impacts nearly 40 cities around the country. A final list of venues, tour sponsors and strategic partnerships associated with the "Leaving Eden" tour will be announced in the coming weeks.
Tour cities for the "Leaving Eden" tour featuring Brandon Heath with special guest Britt Nicole, include:
10/6: Elmhurst, Ill. – Elmhurst Church
10/7: Anderson, Ind. – Madison Park Church
10/8: Buffalo, N.Y.*
10/9: Fairmont, W.Va. – Trinity AOG
10/13: York, Pa. – Pullo Center
10/14: Cicero, N.Y. – Believer's Chapel
10/15: Blakely, Pa. – Peckville AOG
10/16: Cincinnati, Ohio – Christ Church at Mason
10/20: Lansing, Mich. – Great Lakes Christian College
10/21: Ft. Wayne, Ind. – Embassy Theater*
10/22: Grand Rapids, Mich. - Community Reformed Church
10/23: Waukesha, Wisc. – Fox River Christian Church
10/27: Tulsa, Okla. – Convention Center Ballroom*
10/28: Houston, Texas – Woodlands Church*
10/29: Dallas, Texas – Spring Valley UMC*
10/30: Kansas City, Mo. – Colonial Presbyterian*
11/3: Dothan, Ala. – Ridgecrest Baptist
11/4: Charleston, S.C.*
11/5: Raleigh, N.C.*
11/6: Savannah, Ga. – Johnny Mercer Theater
11/12: Aiken, S.C. – Millbrook Baptist
11/13: Fletcher, N.C. – Lelia Patterson Center
11/15: Knoxville, Tenn. – Chilowhee Baptist Church*
11/17: Simpsonville, S.C. – Brookwood Church
11/18: Atlanta, Ga.*
11/19: Fayetteville, Ga. – New Hope Baptist
11/25: Phoenix, Ariz. – Pure Heart Christian Fellowship*
11/26: Los Angeles, Calif.*
11/29: Modesto, Calif.*
11/30: Monterey, Calif.*
12/1: Santa Rosa, Calif. – Spring Hills Community Church*
12/2: Sacramento, Calif. – Sunset Christian*
12/3: Portland, Ore.*
12/4: Seattle, Wash.*
12/6: Nampa, Idaho – Christian Faith Center*
12/7: Twin Falls, Idaho – Lighthouse Christian Fellowship*
12/8: Denver, Colo.*
12/10: Midland, Texas – Golf Course Rd. COC*
12/11: Shreveport, La.*
* Venue Details details forthcoming
About Brandon Heath:
Since the 2006 debut of Don't Get Comfortable, Christian music's beloved and twice honored GMA Male Vocalist of the Year (2009 and 2010), Brandon Heath, has won an Emmy Award, been nominated for two GRAMMYs, an American Music Award and has garnered multiple GMA Dove Awards and songwriting honors. His award winning songs paired with Heath's signature vocals reflect the Nashville native's soaring radio career that includes four No. 1 hits: "I'm Not Who I Was," "Wait and See," the 2009 GMA Dove Award winning Song of the Year, "Give Me Your Eyes," and the eight-week chart topper, "Your Love."
Heath first began writing at age 13 and credits his hometown's legendary hotspot for songwriters, the Bluebird Café, as the place he first experienced music that moved him. Heath's artistry and ability to connect with audiences have compelled countless media outlets across the nation to platform his story and music. Coverage includes Billboard magazine, "CBS Evening News with Katie Couric," Relevant magazine and a 2011 feature by the Wall Street Journal.
Other key spotlights include Heath's "Give Me Your Eyes" (What If We 8/19/2008) which was selected for The Discovery Channel's "On The Case With Paula Zahn," as well as a feature by the Sunday edition of The New York Times as a GRAMMY-nominated newcomer "that shouldn't be allowed to slip through the cracks."
Heath's third album, Leaving Eden (1/18/2011) debuted No. 1 on the Billboard Christian Sales chart and is supported by non-stop direct-support and headlining tours. The hit maker's new single "The Light In Me" released to radio on 4/29 and set in motion momentum driving his 40-city "Leaving Eden Fall Tour," with special guest, Britt Nicole. For additional information please visit www.brandonheath.net
About Britt Nicole:
Sparrow Record's recording artist and 2011 Dove Female Vocalist nominee, Britt Nicole burst onto the Christian music scene in 2007. Since then, she has established herself as a pop-rock mainstay with her deep, honest lyrics and soaring vocals as evidenced by her No. 1 debut on the Billboard Top Christian Albums chart, No. 62 on the Billboard 200, with her sophomore project, The Lost Get Found, (Aug. 11, 2009) produced by Robert Marvin (Mat Kearney, tobyMac) and Dan Muckala (Brandon Heath, Backstreet Boys). The album also went straight to No. 1 on iTunes' Christian/Gospel Top Albums chart, and peaked in the Top 10 on iTunes Top 100 albums chart. The lead single, "The Lost Get Found," rocketed to No. 1 on the Radio & Records CHR chart, spending eight consecutive weeks in the top position while climbing to No. 1 on iTunes' Christian/Gospel Top Songs chart as well. The Lost Get Found also delivered hit songs such as "Walk On The Water," "Hanging On," and "Headphones." This studio-release followed Britt's debut album, Say It, which also produced three Top 10 radio singles "You," "Set the World on Fire," and "Believe."
Britt's songs have been featured in the major motion picture "Soul Surfer," LucasArt's Thrillville 2 video game, "Legally Blonde 3" DVD, MTV's "The Hills," NBC's The Biggest Loser, Lifetime's Drop Dead Diva, ABC Family's "Campus Crush" promo and featured on the soundtrack for the family friendly film "Ice Castles." The North Carolina native is currently working on her next studio album and expects an upcoming 2012 release.
For more information about Britt Nicole, please visit, http://www.brittnicole.com, http://www.facebook.com/brittnicole, http://www.myspace.com/brittnicole and follow her on twitter @itsbrittnicole.
# # #
For more info on Brandon Heath, visit the JFH Artists Database.


[2022]
Jan. | Feb. | March | April | May | June | July | Aug. | Sept. | Oct. | Nov. | Dec.
[2021]
Jan. | Feb. | March | April | May | June | July | Aug. | Sept. | Oct. | Nov. | Dec.
[2001 - 2021]
Visit our complete MUSIC NEWS ARCHIVE