TOOTH & NAIL RECORDS ANNOUNCES DEBUT RELEASE FOR FEMALE-FRONTED ICON FOR HIRE
LABEL DEBUT, SCRIPTED, WILL RELEASE AUGUST 23

DEBUT RADIO SINGLE "MAKE A MOVE" BREAKS
INTO THE TOP 25 ON ROCK CHART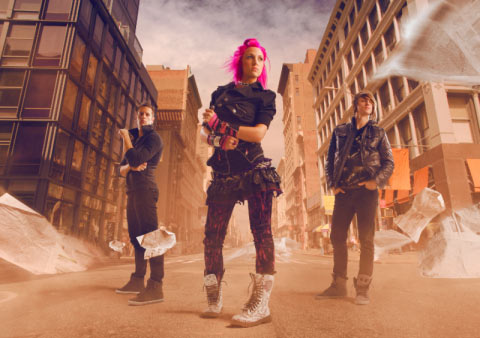 NEWS SOURCE: Merge PR
July 11, 2011
SEATTLE, Wa –July 11, 2011-Tooth & Nail Records have found a gem in one of their newest signings, the heavy alternative rock/modern pop trio Icon For Hire. The Decatur, IL-based band's label debut, Scripted, will release on August 23. Already Icon For Hire's debut single, "Make a Move," is charting in the Top 25 on the Rock format. The single is also available at iTunes here.
Upon listening to the T&N debut, an immediate chemistry is noted between front woman Ariel, guitarist Shawn Jump and drummer Adam Kronshagen, coupled with powerhouse production from Aaron Sprinkle (Anberlin, The Almost, Acceptance) and Rob Hawkins (Fireflight, Philmont), the group sounds nothing short of innovative, infectious and explosive.
"We started up as being a rock band, which is something that will never change, but we had the chance to put over the top production elements that we never had the budget or skill set to do before," notes Sweden-born singer Ariel. "Throughout the sessions for Scripted, we found ourselves developing heavy and brutal in your face moments, but also a pop sensibility. There's a tension really between heavy rock and pop, but never at the expense where it would overshadow the rock side. The pop part is like the sprinkles on top of a cake, but the actual cake is rich, dark and heavy."
The lead radio single, "Make A Move," uses monstrous hooks to convey an empowering call to action to shatter the chains of complacency. As a further extension of that concept, Icon For Hire often shares at their merch table information about various social causes as diverse as the clean water crisis in Africa to the global epidemic of human trafficking.
"It's easy to have a passive self-pity party when things aren't going your way," adds Ariel. "But when you see what people are struggling with in other places, it helps you realize things aren't so bad in your life."
More about Icon For Hire:
Since 2007, the band has been establishing their strong following by touring extensively across the Mid-West. From the beginning, the band has written music with a positive view without downplaying the hardships in life, which is a vision the label understands and supports.
"We're a really tight knit group of friends and we put a lot of care into what we're putting out there for people," sums up Ariel. "We're not the kind of people who want to hang out in the green room all day. We get out there to talk to our fans for hours before and after the show and we try to infuse a hopeful element in what we do and say."
For more information on Icon For Hire, visit: www.facebook.com/iconforhireofficial and follow the band on Twitter @ iconforhire
For more info on Icon For Hire, visit the JFH Artists Database.