PHIL KEAGGY JOINS GOSPEL MUSIC HALL OF FAMERS ON SPECIAL EDITION OF TBN'S "PRAISE THE LORD"
Guitar Virtuoso Discusses His Musical Ministry and Friendship with Paul McCartney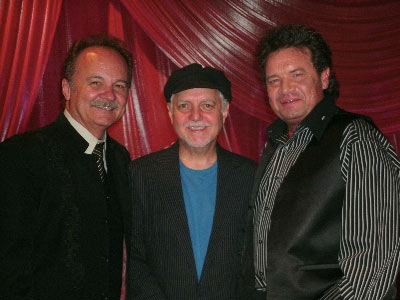 Pictured (L to R): Fortune, Keaggy and Taff backstage during the taping of "Praise the Lord" at TBN's Trinity Music City.
NEWS SOURCE: McCain & Co. PR
July 27, 2011
Nashville, Tenn. (July 27, 2011) - Guitar maestro Phil Keaggy recently appeared on a special edition of TBN's "Praise The Lord" featuring GMA Gospel Music Hall of Fame inductees. Keaggy, who has been a Gospel Music Hall of Famer since 2007, performed and talked with host Russ Taff during the two-hour show.
"An absolute gentleman, a man after God's own heart and one of the greatest players this country has ever had," says Taff of Keaggy as he introduced the masterful musician to the show.
Keaggy sang and played "Salvation Army Band" and "The True Believers" in a performance that brought the audience to its feet in a standing ovation.
During the interview, Keaggy talked about his desire and decision as a teenager to become a musician for God. He also shared how he became friends with Paul McCartney, sharing a photo with the audience of the two of them jamming at McCartney's sister-in-law's wedding, where Keaggy was musical director.
Jimmy Fortune from the Statler Brothers also was featured on the show, along with a segment highlighting the Gospel Music Hall of Fame Induction Ceremony and 2011 inductees Hoss Allen, Degarmo & Key, Johnny Cash and the Golden Gate Quartet.
The show, which aired July 15, can be viewed online at the following link: www.tbn.org/watch-us/archives.
About Phil Keaggy:
One of the world's most beloved musicians, Keaggy's solo career has spanned 40+ years and has included more than 50 solo albums, both vocal and instrumental, as well as eight releases with his band, Glass Harp. Widely recognized for his phenomenal guitar playing as well as his vocal and songwriting prowess, he has received numerous accolades and awards for his music, including seven Dove Awards and a Grammy nomination. Keaggy was inducted into the GMA Gospel Music Hall of Fame in 2007, and was named one of the Top 10 best rock singers in Christian music history by GospelMusicChannel.com in 2009. He has been named one of the "25 Most Underrated Guitarists" by Rolling Stone magazine alongside Prince, The Beatles' lead guitarist George Harrison, Kurt Cobain, Neil Young and Fleetwood Mac's Lindsey Buckingham. One of the most sought-after studio guitarists on the planet, Keaggy also continues to sell out concerts all over the United States with his ever-changing style, ranging from rock & roll to fully-orchestrated instrumental compositions.
The Phil Keaggy Trio's current release, Inter-Dimensional Traveler, is available from Strobie Records. For more information on Keaggy, visit philkeaggy.com.
# # #