WHERE HAVE ALL THE "GOOD GUYS" GONE? REBECCA ST. JAMES REVEALS THE ANSWER ON TONIGHT'S "HANNITY" – FOX NEWS CHANNEL
Release Week Launch of "Stereotype Breaking" Book Draws Attention To The 'Hook-Up Generation' That Boosts More Virgins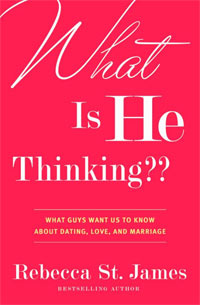 NEWS SOURCE: MorningStar PR
September 27, 2011
(New York, New York) --September 28, 2011 –Grammy Award winning singer and best-selling Christian author, Rebecca St. James this week launches her ninth book What Is He Thinking?? with major national media and a promise: This is a book that will bring hope and encouragement to single women everywhere.
St. James will guest tonight on the Fox News Channel's "Hannity" (9:00 PM Eastern/8:00 PM Central) and as coincidence would have it –Sean Hannity himself bestowed a written endorsement for What Is He Thinking??
Declared as a "must read for every girl who wonders where all the good guys have gone," by the popular Fox television host, the book holds a lot of potential as a resource for young women trying to unravel the mysteries of the ever fascinating subject of 'men.' Authentic 'guy speak' and wisdom on dating. love, and marriage abound.
"The book centers around all the things I wanted to ask guys over the years, and never thought I could," notes the Australian born singer who exchanged her own long standing search for 'Mr. Right' for a "Mrs." title this past April.
As noted by a recent reviewer: "This book is being heralded as the 'ultimate field guide to men' and hopes to answer the longing question of many singles' hearts: 'Is it still possible to find a mate today and live happily ever after?"
St. James unpacks some interest interview research notes that underscore data from a recent article in USA Today. The feature noted that in the era of the 'casual hook-up' the percentage of those of college age who claim to be virgins also appears to be increasing according to a study released in March 2011 by the National Center for Health Statistics.
Other notes of interest from What Is He Thinking??
Dating trends have changed—from 'going out' to 'Starbucks hang.' From formal date to an organic, friendship based approach.
That guys with respectful intentions consider 'modesty' important –and even 'hot.'
Though outside appearance is very important in the visually driven male mind, if there is no personality, depth, or intrigue beyond looks—guys will quickly become dis-interested.

The top selling music artist, turned best selling author and successful actress, feels the book is a gift to the sisterhood of women –like herself—who wondered if love would ever really find them in the overgrowth of the dating jungles.

With a wedding ring now securely on her finger, and a new book packed with acquired wisdom to share, Rebecca St. James is confident about the outlook for those still on the dating journey. "This is a stereotype-breaking book,' she notes confidently, "one that will bring a lot of hope and encouragement to single women."

What Is He Thinking?? is published by Faithwords, a division of the Hachette Book Group, and is available this week at online and instore retail nationally in paperback and eBook form.

Resource Rebecca St. James online: www.rsjames.com

Rebecca St. James records for the Provident Label Group.