QUIET SCIENCE ANNOUNCE RELEASE DATE FOR NEW RECORD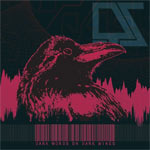 NEWS SOURCE: The Cadence
October 3, 2011
The Space Coast electro-rock trio Quiet Science have announced their upcoming LP Dark Words of Dark Wings will be released October 25th via Last Satellite Records.
Dark Words On Dark Wings is a collection of stories about characters facing the darkest hours of their lives and how in these tremendously difficult times, the characters choose to respond. "In a world where hurt is easy to come by and despair is not always addressed, we want to plant a seed of hope and a challenge for all of us to help mend the broken," exclaims singer Nathan Walter.
For Dark Words on Dark Wings, the band enlisted Jeremy SH Griffith (Underoath, Sunbears, Norma Jean) to produce and engineer, with Drew Lavyne (Foo Fighters, White Stripes, Moby) at the helm of mastering. The result is a sonic masterpiece that sounds big enough to fill arenas while maintaining the innovation to demand multiple listens.
About Quiet Science:
For two years Quiet Science has toured the country non-stop sharing the road with such artists as Switchfoot, Showbread, Abandon Kansas, Sleeping At Last, Cool Hand Luke, Future of Forestry, and Remedy Drive. Quiet Science's first full length album, [With/Without] gained the band much attention including several features in publications such as Relevant Magazine and received airplay on radio stations across North America. Quiet Science has been in demand at many festivals including Cornerstone, Ichthus, and Summer Side Show. The band moved over 3,000 copies of [With/Without] independently, while playing over 150 shows a year since it's release in 2010. Music from the album has also been featured on E!'s Married to Rock and several other television shows. Following the albums' release the band will tour in support. Look for Quiet Science on the road this fall.
Quiet Science
Dark Words on Dark Wings
(Last Satellite Records)
Street Date: October 25th

1. The Last Brave Soldier
2. The Dust Storm
3. Runner
4. Speak
5. A Dying Breed
6. Keeps and Castles
7. The Things That Cannot Be
8. A Feast For Crows
9. 17-23
10. Hum
Tour Dates
10/3 GroundZero - Allenstown, NH
10/7 Murray Hill Theatre – Jacksonville, FL
10/8 H20 Live – Orlando, FL
10/12 The Warehouse – Chatanooga, TN
10/14 The 86 Club - Coryville, OH
10/16 Hebrews - Leo, IN
10/17 Terre Haute Music Venue - Terre Haute, IN
10/18 Goshen Theater - Goshen, IN
10/19 MXTP - Grand Rapids, MI
10/20 The Clearing Venue - Owosso, MI
10/21 The Gear - Franklin, IN
10/22 The Melvin Theater - St Louis, MO
10/26 A&M Theater - Panama City, FL
10/27 Gallery 13 - Columbus, GA
10/28 Kirk of Dunedin - Dunedin, FL
11/05 Revolution Church - Lakeland, FL