BLOOD AND WATER TO TOUR WITH I AM EMPIRE & NINE LASHES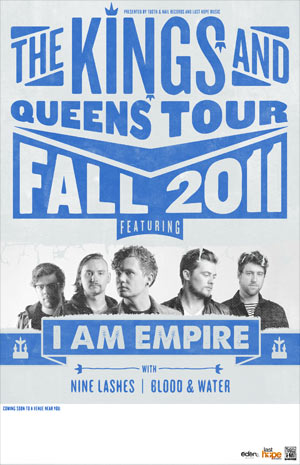 NEWS SOURCE: Eden Records
October 6, 2011
SAN FRANCISCO, CA – October 6, 2011 - Eden Records just announced that its rock/pop/punk act, Blood & Water, will be joining I Am Empire (Tooth&Nail) and Nine Lashes (Tooth&Nail) on the Kings and Queens Tour this fall. The tour runs from October 13th to November 20th and includes the West Coast to MidWest regions.
The tour includes stops at churches, clubs and community centers. The band is looking forward to getting back out on the road and seeing new and old faces at each tour stop. They've spent a notable amount of time on the road so far this year. "We broke out of the local scene and into a smelly shuttle-bus bound for tour dates with some righteous bands. In this year alone," says Brad Hagmaan (lead vocals, guitar), "We've managed to tour the country 3 times over and cross the Mississippi more times than I can count."
Blood&Water's pop punk sound has been a favorite in the underground scene and they're ready to use this tour to expand their fan base both regionally and demographically. "The guys in I Am Empire have been friends of ours for years and this fall, we're going to get to see the country and share the message all over again with those guys. We couldn't be more excited."
"I speak for the whole band when I say that we are very excited to have Blood and Water on this tour," says Eric Martin of I Am Empire. "We had wanted to take them out for a long time, but never had the chance. Now that we have put together our very first headlining US tour, we were able to pick whoever we wanted, thus the decision to choose our friends Blood and Water and our new friends (and label mates) Nine Lashes."
For more information, tickets or interviews please use the press contact below.
The tour dates are as follows:
October 13 @ Club Retro – Roseville, CA
October 14 @ Kuppajoe – Fresno, CA
October 15 @ Valley Bible Fellowship – Las Vegas, NV
October 16 @ TBA - Phoenix, AZ
October 18 @ The Jahva Lounge – Artesia, NM
October 19 @ TBA – Albequerque, NM
October 20 @ Open Gate Community – El Paso, TX
October 23 @ Grace Church – Overland Park, KS
October 24 @ Northern Hill Church – Topeka, KS
October 25 @ Enerje Event Center – Owasso, OK
October 27 @ The Remedy Club – Rockwall, TX
October 28 @ The Warehouse – Vidor, TX
October 29 @ The Worship Lounge – Bedford, TX
October 30 @ Vinos – Little Rock, AR
October 31 @ TBA – Nashville, TN
November 1 @ The Warehouse – Chattanooga, TN
November 6 @ 5th Floor Productions – Pittsfield, MA
November 7 @ Ground Zero – Allentown, NH
November 8 @ Church of the Resurrection – East Syracuse, NY
November 10 @ The Music Venue - Terre Haute, IN
November 12 @ ARC Arena – Valparaiso, IN
November 14 @ The Garage – Bloomington, MN
November 15 @ Shanley High School – Fargo, ND
November 18 @ The Evergreen Church – Burien, WA
November 20 @ Foursquare Church – Newport, OR
ABOUT BLOOD&WATER:
Blood&Water began in the summer of 2006, with the release of their first EP. After establishing themselves in the local San Francisco Bay scene for a few years, the four-piece hit the road. They played summer festivals, toured on the annual Extreme Tour and opened for various national acts along the way. Soon their single hit radio stations and their music video garnered regular rotation on the Gospel Music Channel. The band released its second full length, In Character, in July of 2011. Producer Masaki Liu (Five Iron Frenzy, The W's, Matisyahu) recorded the album and Blood & Water released it on Eden Records. For more information, you can find them online on Facebook or Twitter.
ABOUT I AM EMPIRE:
Tooth & Nail Records' newest addition, I Am Empire, released their label debut, "Kings," in 2011. Recorded in Nashville, TN with producer Rob Hawkins (Disciple, Fireflight), the dozen tracks features a range of alternative rock songs and styles This San Jose-bred fivesome had no trouble igniting the local scene since forming in 2008, including dates alongside Flyleaf, Sublime, Deftones, Silversun Pickups, Thursday, Four Year Strong and The Wedding, a pair of charting singles ("You're A Fake" and "The Elevator"), plus additional acclaim from Alternative Press, AOL's Spinner.com and San Francisco's LIVE105 radio station. Between the band's artistic ambitions, unceasing work ethic, tireless time on tour and thematic reliability, I Am Empire is a perfect match with Tooth & Nail. For more information on I Am Empire, visit: http://www.myspace.com/iamempire and follow the band on Twitter @iamempire
ABOUT NINE LASHES:
The band's name is derived from the whip used to beat Jesus – cat of nine tails. They state Isaiah 53:5 as their reminder that the wounds Jesus suffered was for our restoration, and the name Nine Lashes reminds the band of those wounds. Eventually Nine Lashes was discovered and brought to Tooth & Nail Records by label mate Trevor McNevan of Thousand Foot Krutch, who also helped co-write many of the songs and some spotlight guest vocals. Nine Lashes' different personalities and musical tastes are a creative melting pot that produces a hybrid sound that will take the listener from rock, to screaming guest vocals from Demon Hunter's Ryan Clark ("Our Darkest Day") to moving melodies. Their differences were once viewed as an obstacle to writing music, but they soon realized that working together and embracing these variances created just the right sound and combination for the album. The debut radio single "Anthem of the Lonely" is a band self-description about taking a stand for your beliefs even if that means that you are standing alone.For more information, check out their Facebook and follow the band on Twitter @ninelashes.
###