Music World Gospel Artists Trin-i-tee 5:7 Premieres New Video,
"Bring Your Praise" on ESSENCE.com Today
Duo Sports New Look in Video


Angel and Chanelle to Join Cast of Theatrical Production
Dream with Your Eyes Open
Production Opens on November 3

Trin-i-tee 5:7 to Host the 27th Annual Stellar Awards Nominations and Concert on GMC October 29 at 8 EDT/7 CST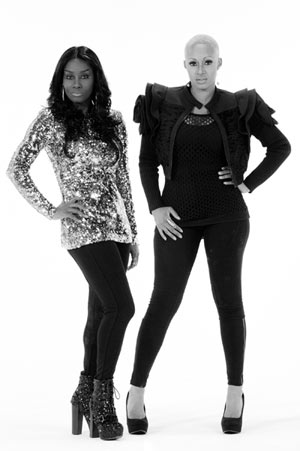 NEWS SOURCE: TKO Marketing
October 12, 2011
(Houston, TX -- October 12, 2011) -- Trin-i-tee 5:7's Angel and Chanelle are known for bringing an edgy, urban sound and style to their gospel and inspirational music. They take it to the edge again in the new video for "Bring Your Praise," the third single from their current CD, Angel and Chanelle. Produced by Fred "Uncle Freddie" Jerkins III and Imani "IZy" Pressley, this song, with its contemporary beats and hip-hop vibe, also has a hard hitting message about the importance of "bringing your praise" to God. In the video, Angel and Chanelle are seen doing it all: singing and rocking out on the keyboard, bass and drums. The video is shot in black and white with splashes of color, which adds to its edgy presentation. "Bring Your Praise" will premiere on ESSENCE.com on Wednesday, October 12, followed by national and regional release to all video and online music outlets. Angel & Chanelle Deluxe marks the group's 7th recording to date and the group's transition from a trio to a duo.
Check out video teaser for "Bring Your Praise":
http://www.youtube.com/watch?v=lrID3ws14mo
On Saturday, October 29, the ladies will host the 27th Annual Stellar Awards Nominations and Concert along with comedian, Akintunde in Nashville, TN. The concert will include performances by Isaac Carree, William McDowell, Y'Anna Crawley and more. Angel & Chanelle debuted at #1 on both Billboard's Top Gospel Album chart and the Top Christian/Gospel Album chart. The CD also entered at #2 on Billboard's Top R&B/Hip Hop Album chart, #5 on the Independent chart and #19 on the Billboard 200.
Angel and Chanelle will soon be bringing their inspirational message to theater-going audiences. They have been cast in roles in Dream with Your Eyes Open, a play written by actress, writer and producer Toussaint Duchess. The play, which is about a journey of survival and redemption for a survivor of Hurricane Katrina, has special meaning for the two gospel artists, who grew-up in that city and whose families and friends were affected by the disaster. The theatrical production opens in Augusta, GA on Thursday, November 3 at Bell Auditorium (see schedule below).
Dream with Your Eyes Open
Date Venue City/State
Thursday, November 3, 2011 Bell Auditorium Augusta, GA
Friday, October 4, 2011 Crown Theater Fayetteville, NC
Saturday, October 5, 2011 Township Auditorium Columbia, SC
Sunday, November 6, 2011 Memorial Auditorium Raleigh, NC
Tuesday, November 8, 2011 Strand Theatre Shreveport, LA
Wednesday, November 9, 2011 Civic Center Marshall, TX
Thursday, November 10, 2011 Music Hall Dallas, TX
Friday, November 11, 2011 Music Hall Dallas, TX
Saturday, November 12, 2011 Music Hall Dallas, TX
Sunday, November 13, 2011 Music Hall Dallas, TX
Tuesday, November 15, 2011 Bob Carr Orlando, FL
Wednesday, November 16, 2011 Bob Carr Orlando, FL
Saturday, November 19, 2011 Florida Theater Jacksonville, FL
Sunday, November 20, 2011 Florida Theater Jacksonville, FL
Tuesday, November 22, 2011 Venue: TBA Spartenburg, NC
Wednesday, November 23, 2011 Venue: TBA Birmingham, AL
Friday, November 25, 2011 Civic Center Atlanta, GA
Saturday, November 26, 2011 Civic Center Atlanta, GA
Sunday, November 27, 2011 Civic Center Atlanta, GA
ABOUT MUSIC WORLD GOSPEL
Music World Gospel (MWG) is a premiere faith-based record and management company under the umbrella of Music World Entertainment. MWG is dedicated to developing creative and innovative approaches to producing and promoting gospel, sacred, and inspirational music worldwide. Its mission is to reach, inspire and empower a diverse audience around the globe. MWG features a roster of award-winning recording artists, joint ventures and special projects including Trin-i-tee 5:7, Vanessa Bell Armstrong, Brian Courtney Wilson, Juanita Bynum, Micah Stampley,

Pastor Rudy Rasmus, Bishop Lester Love, ESSENCE Gospel, the Most Powerful Voices and The Gospel Superfest brands. MWG's joint ventures and partnerships include Universal Music Christian Group, Fontana Distribution, Integrity Africa, ESSENCE Communications, Son Flower Records, Interface Entertainment, Dr. Bobby Cartwright, Jr. and The Love Group, LLC. The company has achieved record breaking success on the sales and radio charts, with several artists' albums and singles debuting atop Billboard and Christian Music

Trade Association (CMTA) charts and remaining in the Top 5, 10 and 20 positions for as many as 100 weeks and counting.

ABOUT MUSIC WORLD ENTERTAINMENT
Music World Entertainment (MWE) was founded by Mathew Knowles, President and C.E.O. Music World Entertainment is one of the world's leading entertainment and music conglomerates dedicated to producing and distributing quality entertainment. The MWE worldwide platforms include successful record label ventures, recording artist and producer management services, artist development services, a master catalog series, film ventures, television productions, licensed and merchandise products, sports endeavors, community philanthropic work and investment and property holdings. The Houston headquarters is home to House of Deréon Media Center, a performance and event facility hosting special events including charity galas, corporate parties and private functions. MWE has offices in Houston and New York.


# # #
For more info on Trin-i-tee 5:7 visit the JFH Artists Database.