ST. LOUIS AND JOYFM JOIN STEVEN CURTIS AND MARY BETH CHAPMAN IN SHOWING HOPE TO ORPHANS;

One Day Fundraiser Brings In Nearly $80,000!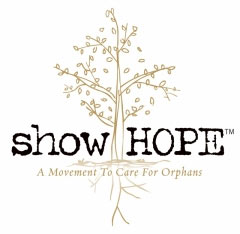 NEWS SOURCE: Merge PR
October 17, 2011
17 October 2011 - Nashville, Tenn - Show Hope™, the orphan care ministry founded by Steven Curtis and Mary Beth Chapman, is pleased to announce the success of their recent one-day fundraiser with St. Louis' JoyFM. Held last Wednesday at the St. Louis radio station, the effort raised close to $80,000 specifically for Show Hope Special Care Centers, such as Maria's Big House Of Hope. Located in one of the poorest provinces of China, Maria's Big House of Hope provides life-giving care for orphans with special needs.
Both Steven Curtis and Mary Beth Chapman personally joined the station and 70 volunteers for the 12-hour fundraiser, answering calls and callers' questions, all the while raising funds as well as raising awareness for adoption and orphan care. Starting at the 6:00am morning drive and going until the 6:00pm afternoon drive, donations from more than 700 people came in from not only around the city but from around the country and the world, even receiving an email from an online listener in Scotland. Sharing the mic with the Chapmans was JoyFM's morning drive host Sandi Brown, also an adoptive parent.
"This is the third time in six years Sandi Brown and the JoyFM listeners have joined us to help change lives through their combined generosity," shares Scott Hasenbalg, Executive Director of Show Hope. "It is remarkable to witness various parts of the body working together for something beyond ourselves, and I am grateful for the 700 plus people who answered the invitation to be a part of something special."
Making the JoyFM airwaves even more exciting was that the Chapman's celebrated the birthday of their daughter, Stevey Joy, who turned 9 years old on Wednesday. In her honor, the station asked donors to give in amounts of nine, so all day long generous donations came in from $9 up to $999.99!
Wednesday was followed up by another celebration for the family. Steven and Mary Beth Chapman celebrated their 28th wedding anniversary with a sold out concert wtih JoyFM in nearby St. Peters at Church on the Rock. Chapman's "Songs & Stories Tour," supporting his brand new album release re:creation, continues through November 3rd. For tour dates and more information, please visit stevencurtischapman.com.
The St. Louis visit was surely an exciting and successful time for the Chapman's, JoyFM and for Show Hope. For further information, or to host a radio fundraiser with your station, visit ShowHope.org or contact Charley Redmond at contact@ShowHope.org.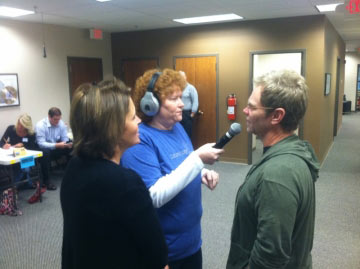 Chapman's on air with JoyFM's Sandi Brown, sharing all about Show Hope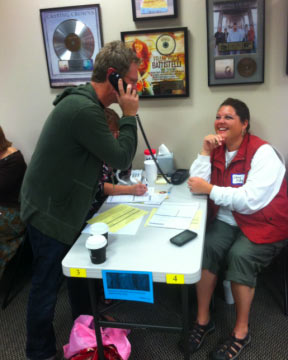 Here's Steven answering one of the many incoming calls, surely making someone's day!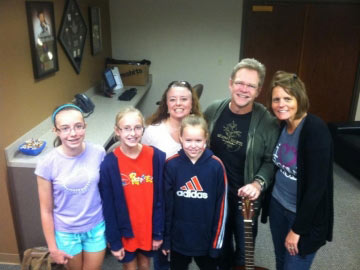 The Hefele family stops by the station to have Steven play their dad's guitar live on air
For more info on Steven Curtis Chapman visit the JFH Artists Database.