Owl City's World Tour Continues in US Following Sold-Out Shows in Australia, New Zealand, UK, EU and Asia & Following Launch of "The Mainframe" and Through the Lens of Adam Young
Owl City Launches THE MAINFRAME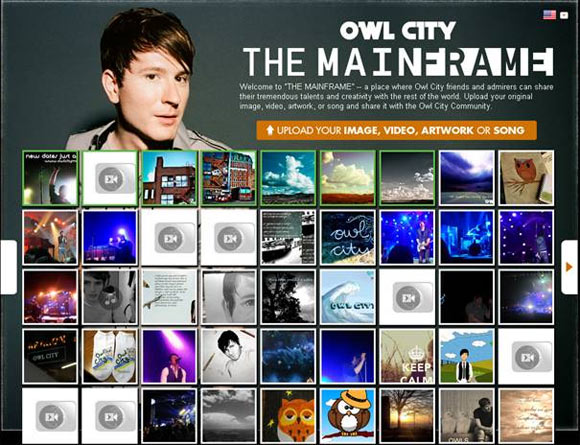 NEWS SOURCE: Stunt Co.
October 25, 2011
Owl City's Adam Young was so impressed and in awe at the amazing art his fans have shown him after shows yet was disappointed to know that most pieces would not see the wide viewership the spectacular pieces were deserving. So, Adam created THE MAINFRAME – a place where Owl City friends and admirers can share their talent and creativity with the world. It's as simple as uploading the image, video, artwork, or song. Submit or merely check out the sights and sounds at: http://mainframe.owlcitymusic.com/.
PLUS: See The World Through Owl City's Eyes
Through the Lens of Adam Young Part. 1 is Live!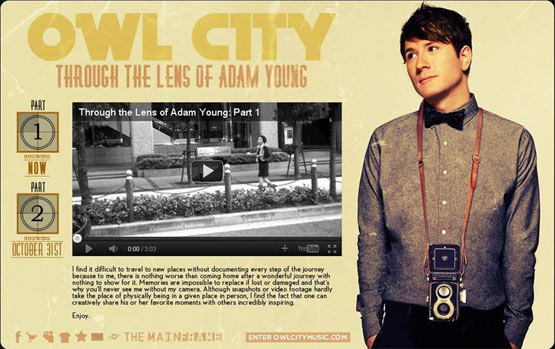 As Owl City travel the world on their All Things Bright and Beautiful World Tour, mastermind Adam Young has captured the wonderful things he saw on film. The result is a two part documentary comprised of black and white vignettes of what Adam witnessed on his recent Asian portion of the world tour. Part 1, out now, focuses on sights in Japan, while Part 2 will be released on October 31st. Just go to www.owlcitymusic.com to see the world from Adam Young's eyes.
Owl City is Back in the US to Continue the All Things Bright and Beautiful World Tour
Owl City is hot off the International (Australia/New Zealand/UK/EU/Asia) portion of the All Things Bright and Beautiful World Tour. They head back to the States this November to bring the bright electro-pop to fans across the country. Check out the upcoming dates below!
Nov. 2nd Northern Arizona State University Flagstaff, AZ
4th Diamond Ballroom Oklahoma City, OK
5th Sokol Auditorium Omaha, NE
6th Van Male Gymnasium, Carroll College Waukesha, WI
7th The Pageant St. Louis, MO
9th Expo Five Louisville, KY
11th Dixon Ministry Center, Cedarville Univ. Cedarville, OH
12th Crocodile Rock Allentown, PA
13th Starland Ballroom Sayreville, NJ
14th Norva Norfolk, VA
16th 9:30 Club Washington DC
17th House of Blues Cleveland, OH
18th The Intersection Grand Rapids, MI
19th University of Minnesota Minneapolis, MN
# # #
For more info on Owl City visit the JFH Artists Database.