Centricity Music Artist Downhere Wins Two Awards At This Year's GMA Covenant Awards Including Song Of The Year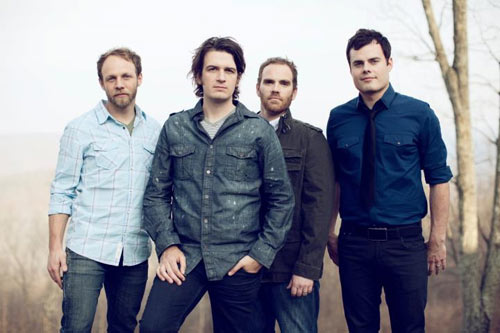 NEWS SOURCE: Bozeman Media
November 8, 2011
Nashville, TN (November 8, 2011) ---- Centricity Music's high-profile band, Downhere, won two major categories during the recent GMA Covenant Awards in Canada. The group won Song of the Year ("Let Me Rediscover You") and Pop/ Contemporary Album of the Year ("Two At A Time"). Two At a Time was released in the summer of 2010 and had two new songs plus B-sides and demos in order to satisfy the high demand for new Downhere music between albums. Downhere's current project, On The Altar Of Love, released in late August and as a result didn't qualify for this year's awards.
"It is such a thrill when artists we have been developing and working with get the recognition they deserve," states Steve Ford, VP of Marketing, Centricity Music. "To have Downhere continue to garner the accolades from their Canadian fans is overwhelming. "
Downhere continues to generate tremendous reviews for their projects, with JesusFreakHideout.com calling On The Altar Of Love "one of the best releases of the year." The band is currently on The Called To Love Tour with labelmates, Jason Gray and Aaron Shust that ends November 13th in North Carolina. Downhere will launch their highly anticipated How Many Kings Christmas tour on December 1st in Overland Park, KS. At the same time, co-lead singer, Marc Martel, has become a music sensation with his Queen Extravaganza video audition that generated more than 4-million hits. It led to an appearance on the Ellen Show, winning the MTV O Awards 2011 for Best Fan Cover and Queen drummer, Roger Taylor, announcing in a FOX News interview that Martel "is an extraordinarily good singer." The fan voting process begins November 14th at www.queenextravaganza.com and concludes November 25th. Winners for the Queen Extravaganza Live Tour will be announced in December.
About Centricity Music
Centricity Music is an independent recording and publishing company based in Bellevue, Washington and Nashville, Tennessee. The company's mission is to enable our artists to create life-changing experiences for the world. Centricity Music's artist roster includes Jaime Jamgochian, Downhere, Aaron Shust, Jason Gray, Andrew Peterson, High Valley, Sixteen Cities and Me In Motion. For more information about Centricity Music visit online at www.centricitymusic.com.
# # #
For more info on Downhere visit the JFH Artists Database.