NEWSBOYS ANNOUNCE THEIR BIGGEST TOUR YET, THE "GOD'S NOT DEAD WORLD TOUR"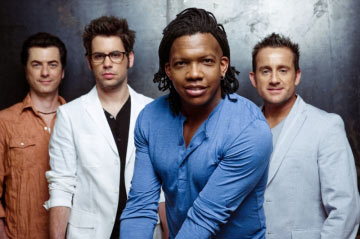 NEWS SOURCE: Newsboys
December 13, 2011
On the heels of releasing their highly acclaimed rock worship project, God's Not Dead, Newsboys will embark this spring on their biggest tour yet, the "God's Not Dead Tour." Kicking off Jan 12th and running through May 5th, the tour will run in over 60 cities across the U.S. The tour is presented by Compassion International, continuing their partnership with Newsboys to raise awareness for child sponsorships. Additionally, a special VIP Pre-Show Meet & Greet Experience will be held nightly with a portion of its proceeds going to support Compassion International's child trafficking initiatives. Other major sponsors supporting the tour are I Am Second and Interstate Batteries.
Joining Newsboys on the tour will be special guests The City Harmonic (winners of GMA Canada's New Artist of the Year award), the high-energy pop foursome Anthem Lights, and the rock-driven group Abandon. A special emphasis has been placed on outreach and evangelism, with youth evangelist Bob Lenz joining the tour to share a message of hope. Lenz's non-profit organization, Life Promotions, will be building a network of supporting churches throughout the tour to facilitate the post-concert evangelistic efforts of the tour, with additional support from I Am Second. I Am Second, a movement meant to inspire all people to live for God and for others, is designed to help people discover their purpose in life.
Newsboys' God's Not Dead Tour Dates:*
January 12 - Holland, MI
January 13 - Anderson, IN
January 19 - Sheboygan, WI
January 20 - Port Huron, MI
January 21 - Menominee, MI
February 02 - Amarillo, TX
February 03 - Longview, TX
February 04 - Abilene, TX
February 09 - Temple, TX
February 10 - Carlsbad, NM
February 11 - Phoenix, AZ
February 12 - Tuscon, AZ
February 17 - Oceanside, CA
February 18 - Brentwood, CA
Feburary 19 - Sacramento, CA
February 21 - Layton, UT
February 23 - Anaheim, CA
February 24 - Redlands, CA
February 25 - Fresco, CA
February 26 - Bakersfield, CA
March 02 - Farmington, NM
March 03 - Lubbock, TX
March 09 - New Bern, NC
March 16 - St. Charles, IL
March 17 - Quincy, IL
March 22 - Barre, VT
March 24 - Lynchburg, VA
March 28 - Yankton, SD
March 29 - Indianola, IA
March 31 - Spencer, IA
April 05 - Edna, TX
April 06 - McAllen, TX
April 14 - Valdosta, GA
April 21 - Springfield, OH
April 22 - Wabash, IN
April 26 - Knoxville, TN
April 27 - Evansville, IN
May 03 - Menasha, WI
May 04 - Oak Creek, WI
May 05 - Flint, MI
*Dates and supporting acts are subject to change
For more info on Newsboys visit the JFH Artists Database.