Live as Lions signs to Raging Storm Records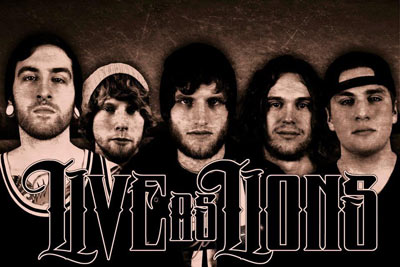 NEWS SOURCE: Raging Storm Records
January 10, 2012
Fairbanks, AK- First to join the ranks of the Raging Storm Records metal melitia in the new year is Live as Lions, an up and coming Spirit-filled hardcore band from the great white north. Truly embracing the Romans 12:1 core value, this is a band that strives to give everything they can to God in all that they do.
"We are beyond excited to announce that we are officially a part of the Raging Storm Records family! It's both humbling and an honor to receive the love, support, and confidence in who we are and what we do from the label and the bands alike. Our friends, family, networking teams online, endorsers, and bands from Alaska as well as the lower 48 have been such an encouragement to all of us as we've pursued our passion for music and God's desires for others in the scene. It's been daunting at times to believe that this could actually happen but, with the help of everyone that's had faith in us and our Faith in Jesus it's all been a dream come true - THANK YOU!"
Stay tuned to Raging Storm and Live as Lions on facebook for more news in the coming weeks, including an album announcement and tour dates. In the mean time, the band's first single "S.O.S." is currently on iTunes, and is a must-listen for anyone thirsty for new metal in 2012.
###
ABOUT LIVE AS LIONS
Live As Lions is a Spirit-Filled Hardcore band from Fairbanks Alaska. Who they are, is birthed from the desire for Freedom and Truth, in a world that often gives very little Hope, and in that, a level of lyrical-honesty that is an unforgettable to every listener. Although musical content is often placed on the backburner due to lyrical content, this is not the case with L.A.L. While being prodominately categorized as hardcore/metal they manage to cross genre-lines, maintaining their sound and yet, set themselves apart as both musically adept, and unmistakably heavy. Their message and music rival each other in intensity but work together inexplicably and that is only made more prevalent by their live performance." https://www.facebook.com/liveaslions
ABOUT RAGING STORM RECORDS
Raging Storm Records is an independent record label promoting positive music with a Christian world view, striving to represent our testimony in everything we do in accordance with Romans 12:1:
"Therefore, I urge you, brothers, in view of God's mercy, to offer your bodies as living sacrifices, holy and pleasing to God-this is your spiritual act of worship".
In keeping with the New Testament model of servant leadership, it is always our intent to serve the artist. https://www.facebook.com/ragingstormrecords