GRAMMY AWARD WINNER REBECCA ST. JAMES CALLS FOR NATIONAL SUPPORT OF "SANCTITY OF HUMAN LIFE SUNDAY"-JANUARY 22, 2012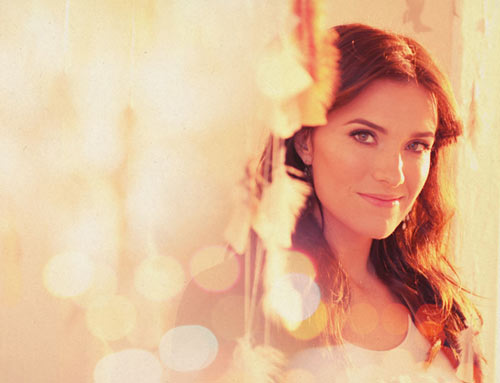 NEWS SOURCE: MorningStar PR
January 17, 2012
(Nashville, Tennessee) -January 17, 2012 - Speaking out for "life" has become more than a passion for Grammy® Award winning Christian singer and best-selling author, Rebecca St. James. She's this week reminding America that this Sunday-January 22-is "Sanctity of Human Life Sunday."
In a January 13, 1984 proclaimation, President Ronald Reagan designated the third Sunday of January as "National Sanctity of Human Life Day." The date was chosen to coincide with the eleventh anniversary of the "Roe V. Wade" Supreme Court case that first recognized the constitutionally protected status of abortion in America.
In the now almost 40 years since "Roe v. Wade," the nationally recognized Guttmacher Institute has recent statistics released in 2011 that estimate that more than 50 million abortions have taken place in the U.S.
Care Net, one of the leading national organizations on the frontlines for life through their network of more and 1,100 pregnancy centers, estimates that in 2012 alone, 3,300 women will wake up in America every day facing unplanned pregnancy and the belief that abortion is their only option.
Rebecca has used both her platform in national media and her lead role in the critically acclaimed 2009 pro life film "Sarah's Choice," to become intimately attached to the world of crisis pregnancy-both in word and deed. Her film work led to her growing interest in becoming involved with several major U.S. organizations on the forefront of promoting the choice for life, among them Care Net. Rebecca's concert schedules have yearly increased to include a number of special events in support of crisis pregnancy and pro life.
Notes St. James:
"My passion for the pro-life message began when I attended a crisis pregnancy center fundraiser in Los Angeles. There I saw the incredible work of pregnancy centers; the children's lives being saved, unmarried mothers finding the support they need to give life, wounded women receiving healing. I remember asking God to show me what I could do to help and He was not long in responding to that prayer. A couple months later, I was asked to play the lead role in the pro-life film, Sarah's Choice and God also gave me a song for the film called 'Little One''- a tribute to life. Since the release of the film in the fall of 2009, I have been singing at fundraisers for pregnancy centers and I cannot describe to you the incredible joy of being involved in this work."
St. James is encouraged that recent statistics show Americans are supporting the pro life agenda in increasing numbers and emphasizes the crucial need to let their voices and funding make a difference.
"One of the things I have seen in being involved with the crisis pregnancy work across the board is that they have very limited resources," noted St. James in a recent interview. "My real hope in doing "Sarah's Choice" was that ultimately the film would be a resource that pregnancy centers could use-whether as a trailer, or showing the whole movie to the young women or the families of young women facing the issue of 'choice.' I am thrilled whenever we learn its being used as a tool of encouragement for someone to choose life for their unborn baby."
On the ongoing efforts of those working to preserve the lives of the unborn, Rebecca feels strongly: "These are the real heroes of our time. Women are too often overwhelmed by life's circumstances, believing there is no alternative, and they tragically end their pregnancies. I hope to help spread the message even wider that there is hope through the compassionate network of pregnancy centers who are every day through, their expressions of both practical support and God's love, empowering women to choose life."
This Sunday-January 22, 2012--Sanctity of Human Life Sunday-will be a reminder of that mission--and that hope.
#####
For more information on the work of Care Net, resource: www.care-net.org
To see a clip from Rebecca's film "Sarah's Choice" and hear her performance of the song "Little One," resource: www.rsjames.com
For more info on Rebecca St. James visit the JFH Artists Database.