"Love Worth Fighting For" Event Featuring Kirk Cameron and Warren Barfield Returns for Third Season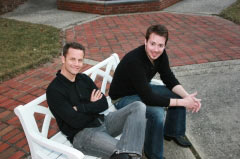 NEWS SOURCE: The M Collective
January 18, 2012
Nashville, Tenn. Jan. 18, 2012… After two successful nationwide tours, "Love Worth Fighting For" is returning for a third year of events backed by popular speaker Kirk Cameron ("Fireproof," "Left Behind" series and "Growing Pains") and singer/songwriter Warren Barfield. Beginning in Montgomery, AL on Jan. 20, "Love Worth Fighting For" will span the entire year. Markets have been announced through April, and include Tallahassee, Fla., Des Moines, IA, Charlotte, NC and Indianapolis, Ind.
The "Love Worth Fighting For" conference focuses on all areas of relationships including one's relationship with God. The conference encourages people in all stages of life to attend as the event applies to teenagers, single adults, newly married couples and longtime spouses. Tickets range from $20 to $35 each and are available as reserved seats or general admission for singles, couples and groups of 10 or more. For more information on dates and tickets, visit https://tickets.feedyourfaith.org/
"We have received emails and letters from couples saying this was the last ditch effort that they were going to make. Before they signed the papers, they were going to give it one last shot," says Cameron. "They walk out of these events holding hands. It is awesome to see what has happened."
"The 'Love Worth Fighting For' event is a combination of humor, music, honesty and biblical insight focused on encouraging men and women to find the victories on the other side of the battles they face in their relationships," explains Barfield. "Husbands and wives leave empowered to fight for each other rather than against. After every event I am amazed at the stories that pour in. The event is literally changing family trees. I am grateful to be fighting for love alongside of Feed Your Faith and Kirk Cameron. We all believe it is worth it."
###
About Kirk Cameron:
Kirk is best known as the lovable teen heartthrob "Mike Seaver," of the award winning series Growing Pains. He is also known as "Buck Williams" from the Left Behind films based on the New York Times best selling novels by Tim LaHaye and Jerry Jenkins. Kirk's most recent role was playing the part of "Captain Caleb Holt" from the 2008 blockbuster movie success, "Fireproof."
Cameron continues to be actively involved in quality family entertainment and travels throughout the country, making the most of every opportunity to further the Gospel. He speaks in schools, churches and at community events. He is also a producer and host of The Way of the Master television series.
About Warren Barfield:
North Carolina-born singer/songwriter Warren Barfield is on a mission to make the truly important things important again in his life. Things like faith, love, marriage, children, truth and with his songs, he challenges us all to do the same. Martin Luther King Jr. said, "If a man hasn't discovered something that he will die for, he isn't fit to live." Warren has found those things in his faith, his wife, and his belief in love. "These are the things I would die for; things I will wake up every morning and spend my day fighting for."
About Feed Your Faith:
Feed Your Faith is a group of evangelical Christians working collaboratively outside and across denominations to engage Christ's Church in the U.S. They are dedicated to bringing the best Christian speakers, teachers, and artists to engage Christians and non-Christians in our sphere of influence. In turn, the organization is donating the proceeds from its events to local missions and ministries. Their mission is to teach Jesus during their seminars, praise Jesus during their concerts, and to be Jesus to people in the community by assisting area ministries.
"Love Worth Fighting For" Tour 2012
* All dates subject to change, stay tuned to https://tickets.feedyourfaith.org/
Fri. Jan. 20 Montgomery, AL
Sat. Jan. 21 Pensacola, FL
Sun. Jan. 22 Tallahassee, FL
Sat. Feb. 11 Alvin, TX (greater Houston area)
Sun. Feb. 12 Pflugerville, TX (greater Austin area)
Fri. Feb. 24 Des Moines, IA
Sun. Feb. 26 Rock Island, IL
Sat. Mar. 12 Dunn, NC
Fri. Mar. 16 Roanoke, VA
Sun. Mar. 18 Charlotte, NC
Sun. Apr. 15 Indianapolis, IN
Fri. Jun. 8 Troy, MI
For more info on Warren Barfield visit the JFH Artists Database.