Show Hope's 3rd Annual Spring Celebration Presents
Rodgers And Hammerstein's
Enchanted Edition of "Cinderella"
This One-Night-Only Event Will Be Held On
Thursday, April 12, 2012
At Nashville's Schermerhorn Symphony Center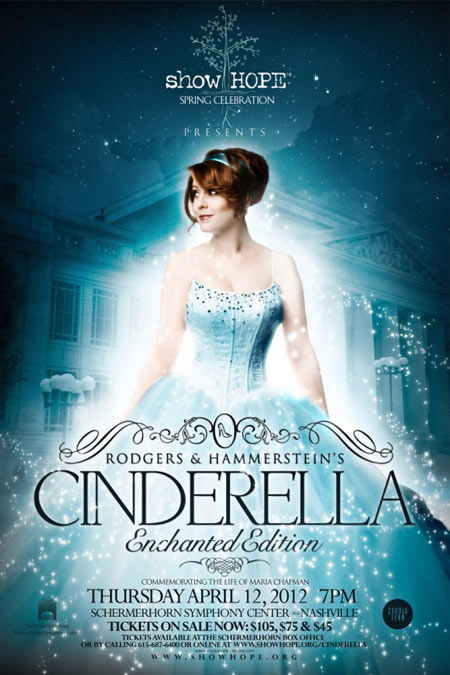 NEWS SOURCE: Merge PR
February 1, 2012
1 February 2012 - Nashville, Tenn - To help advance Show Hope's™ mission of caring for the most pressing needs of orphans around the world and to commemorate the life of Maria Sue Chapman, a star-studded cast is teaming up with the Nashville Symphony to present the classic musical, Rodgers And Hammerstein's Cinderella, Enchanted Edition, for the third annual Show Hope Spring Celebration. This "one-night-only" concert performance will again offer colorful costumes, a flourish of makeup, a dash of dancing, and a good measure of magic!
Show Hope founders Steven Curtis and Mary Beth Chapman dreamed for years about creating a major entertainment event for Nashville, wanting to be able to give back to the supporting community as well as to serve as a platform to celebrate and illuminate the mission of Show Hope. They are proud to announce that for the third year in a row, their dream will again become a reality.
This not-to-be-missed Show Hope Spring Celebration of Cinderella again features Steven Curtis Chapman as executive producer and Studio Tenn's Matt Logan as director. According to Jeffrey Ellis of BroadwayWorld.com, "Logan's sheer chutzpah in bringing such a star-studded cast together to bring the musical to life is laudable and, clearly, it raises the bar higher for Nashville theatre." Ellis also stated, "No matter how you look at it, Cinderella was a completely magical and enchanting success."
The event will feature Broadway star Alli Mauzey (Wicked, Hairspray) reprising her role as Cinderella, and new to the cast this year is Melinda Doolittle ("American Idol") as one of the stepsisters. More Broadway stars and the Nashville Symphony will join in to make this special evening a memorable celebration of the important work that Show Hope is doing.
This year, Show Hope is offering an exclusive Princess Package, which includes an individual photo opportunity with Cinderella and is sure to be a perfect father-daughter outing! The package is only $25 additional per ticket, so be sure to act now as there is a limited quantity.
Thursday, April 12th, 2012 7:00pm
Schermerhorn Symphony Center
Nashville, Tennessee
Tickets are available now at $109, $79 and $49 by calling #615-687-6400 or:
1. Visit the Cinderella event page at the Nashville Symphony website
2. Login or create an account with the Nashville Symphony
3. Choose your tickets for the Cinderella event and complete the checkout process as instructed
**Ticket availability and artists performing are subject to change. Find out more at showhope.org/cinderella.
About Show Hope:
A ministry founded by Steven Curtis and Mary Beth Chapman to help care for the millions of orphans around the world, Show Hope helps to provide waiting orphans with forever families by giving financial grants to adoptive families. To date, Show Hope is now an internationally recognized voice for orphan advocacy and has given more than 3,000 financial grants, affecting the lives of children from 50 different countries, including the U.S. In addition to giving financial grants, Show Hope also empowers families, churches and communities with adoption and orphan care resources and advocacy efforts to change the world for orphans.
Show Hope, expanding its remarkable worldwide impact, also provides for orphans with special needs in China through its Special Care Centers. One of these centers is Maria's Big House of Hope, a six-story healing home facility located in Luoyang, China. Opened in the summer of 2009, its mission is to provide the highest level of care for orphans who are in desperate need of surgeries and medical attention, thus enabling the children to thrive and increase the orphans' chances of being adopted. Additional centers have opened in the Henan province of China, operating in two state-run orphanages as an extension of the care being provided at Maria's Big House of Hope.
# # #
For more info on Steven Curtis Chapman visit the JFH Artists Database.