WESS MORGAN SELECTED 'PLAYERS' CHOICE' FOR 2012 SUPER BOWL GOSPEL CELEBRATION CONCERT
THE HIGHLY ANTICIPATED EVENT SET TO BROADCAST NATIONWIDE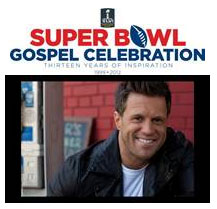 NEWS SOURCE: Rogers & Cowan
February 3, 2012
LOS ANGELES, CA (February 3, 2012) Today, NFL 'Player's Choice' Wess Morgan will be performing at the 13th Annual National Football League's Super Bowl Gospel Celebration. This televised all-star event kicks off at 7:30pm EST tonight, February 3, 2012 at the Clowes Memorial Hall at Butler University in Indianapolis, IN and will air on various stations nationwide starting tomorrow. Please visit www.superbowlgospel.com for a full list of air dates and markets.
Sponsored by American Family Insurance and Verizon Wireless, the celebration is hosted by Rev Run (Joseph Simmons) and gospel's sweetheart CeCe Winans. Morgan will be performing alongside American Idol winner Fantasia, Donnie McClurkin, Hezekiah Walker, powerhouse vocalist, Natalie Grant and Verizon's How Sweet the Sound 2011 Overall Winning Choir, Salvation and Deliverance Church Choir.
Morgan will perform "I Choose To Worship," which garnered a nomination at the 2011 Dove Awards and the 2012 Stellar Awards, and also spent more than 50 weeks on the Billboard Gospel charts. In addition to his successful recording and touring career, Morgan is the associate pastor at Celebration of Life Church in Hendersonville, Tennessee, and is also the founder and director of the Wess Morgan Foundation, whose focus is youth-oriented drug and alcohol prevention and recovery. Currently, Morgan is working on a new full-length recording under the direction of award-winning producer, Warryn Campbell. The still untitled project is slated for a mid-2012 release.
The Super Bowl Gospel Celebration has become legendary for its hand clappin', soul-stirrin' and foot stompin' performances from artists including Patti LaBelle, BeBe Winans, Mary Mary, Israel Houghton & New Breed, Yolanda Adams, Jaci Velasquez, Fred Hammond and many more. NFL Players that have made appearances include Cris Carter, John Elway, Donovan McNabb, Kurt Warner, Tim Brown and Darrell Green, Coaches Lovie Smith, Raheem Morris and many more.
Since its inception in 1999, the Super Bowl Gospel Celebration has partnered with a charity in each Super Bowl host city. This year, Gary Brackett's IMPACT Foundation has been selected as the event's charitable partner. For each ticket purchased for the Super Bowl Gospel Celebration, $3.00 will go to the Foundation.
For more information on Super Bowl Gospel Celebration, please visit www.superbowlgospel.com and for the latest news and information on Wess Morgan, please log on to http://www.wessmorgan.com.
Tickets for the 2012 Super Bowl Gospel Celebration are on sale at www.ticketmaster.com, www.superbowlgospel.com. Prices are $99, $79, $59, and $39 (additional service fees and taxes apply).
ABOUT WESS MORGAN: Wess Morgan who is becoming increasingly popular for his ability to sing soulful melodies over lyrics that yield life-building messages along with his unique ability to share God's word alongside his personal testimony. Both the music and spoken word coming from Wess Morgan connects with the hearts of people in search of "the rest of their lives." In 2010, his nationally released recording, Under an Open Heaven, delivered the hit song, "I Choose to Worship," which spent nearly 50 weeks on the Billboard charts as well earned this Tennessee-native his first Stellar Award nomination for "Song of the Year."
ABOUT THE SUPER BOWL GOSPEL CELEBRATION: The Super Bowl Gospel Celebration was launched in Miami in 1999 during Super Bowl XXXIII weekend. Few recognized that many athletes and fans desired an event to celebrate the big game, not only to show their love for football, but also an outlet to express their faith through uplifting sounds and the rich culture of gospel music. In 2002, the event became the first and remains the only gospel event sanctioned by the NFL. Since its inception, the show has drawn crowds in the thousands and has demonstrated growth year-over-year, selling out venues in major Super Bowl host cities including Dallas, Tampa, Detroit, Jacksonville, Houston and Phoenix.
###