House of Heroes Frontman Announces New Solo Acoustic Tour
Select dates to feature fellow artist, Stephanie Smith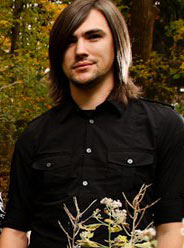 NEWS SOURCE: House of Heroes
February 5, 2012
Today, House of Heroes frontman Tim Skipper announced that, upon completion of House of Heroes' brand new album (still untitled, still without an official release date), he will be embarking on a solo acoustic tour -- which you can even help book! Check out his announcement below...

Hey guys! We just wrapped up mixing the new record last night, and it is absolutely ridiculous!!! Unfortunately, now is the time where we get all of our ducks in a row before releasing it, so we're a little ways off from actually getting it in your hands. We'll be playing some shows here and there and hopefully even booking a brief tour or two to start breaking some of these new jams in.
In the down time from all of that I (this is Tim by the way) am going to do something that I've always wanted to do and embark on a few brief solo acoustic runs! Just me, a guitar, and whomever I'll have with me for each prospective round of dates. I've been pretty inspired by my good friend Jeremy Spring from Abandon Kansas. He's gone on 3 different "Living Room Tours" and the more I heard about them, the more I just had to get in on those good times! So, big round of applause for Jeremy. He's been a great friend and very helpful in giving me the courage to actually go for this.
So here's the deal. For the first round of dates, I'll be traveling with my lovely girlfriend, miss Stephanie Smith and they are as follows:
March 7 - Rumba Cafe - Columbus, OH w/Matt Pryor from The Get Up Kids (http://www.columbusrumbacafe.com)
March 8 - Akron/Canton, OH - details coming soon!
March 9 - Tiffin, OH - Java House @ Red Raven $5 sug. donation 7:30pm (Facebook Event Page: http://www.facebook.com/events/101148666681193/)
March 10 - Fort Wayne, IN - details coming soon!
After that, we're heading home for a few days and then my good friend Nathan Walker from The Red Airplanes and I are going to be heading to the Lone Star state for 8 days!!! This is where I need the help of all of you Texans out there! We're going to be in Texas March 15 - March 22 and we'd like to play every one of those nights! So far the only show booked is:
March 16 - Plano, TX - Collin Creek Church, $5 7pm
That means we need to get to work on filling in the rest of those dates! We've got a few leads, but nothing is in stone yet. The cities we would like to play are: Houston, Beaumont, San Antonio, Austin, Waco, Tyler, and Dallas/Fort Worth. If you have a venue, coffee shop, living room, church, etc. and want to bring us in, please email hohtour @ gmail.com immediately!!!
We'll be traveling very economically in a car with 2 guitars and some overnight bags. No "venue" is off limits, so don't hesitate to inquire. We will need at least $200 per show minimum (travel ain't cheap and we're both missing work), so if you can't reach that requirement, then please don't email us. If you have any other questions at all, don't hesitate to send us an email.
I'll keep everyone updated as I plan on doing 1 or 2 more of these little runs in late March/Early April. Just not quite sure where yet.
I'm looking forward to these intimate shows and getting a chance to share some stories and hang with a bunch of you fools!
###
For more info on House of Heroes visit the JFH Artists Database.
For more info on Stephanie Smith visit the JFH Artists Database.