25 PRESENTS KICKS OFF GIRLS OF GRACE CONFERENCE ON AUGUST 11, 2012
Hosted By Point Of Grace And Featuring Musical Guests Jason Castro, For King & Country, Group 1 Crew And Meredith Andrews

Guest Speakers Include Amber Lehman, Constance Rhodes And Chris Wheeler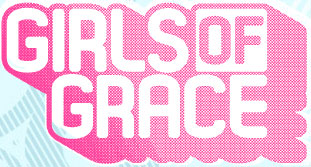 NEWS SOURCE: Warner Music Nashville
April 11, 2012
NASHVILLE, TN - (April 11, 2012) - WORD Entertainment and 25 Presents are proud to announce the Girls of Grace conference, which kicks off its new season "The Beautiful Truth" in Jackson, MS in August, hosted by multi-platinum and award-winning trio Point of Grace, featuring special musical guests *Jason Castro, *for KING & COUNTRY, *Group 1 Crew, and Meredith Andrews and guest speakers Amber Lehman, Constance Rhodes and Chris Wheeler. Girls of Grace is scheduled to visit nine states and reach thousands of teenage girls during an exciting one-day event that is geared towards girls in 6th - 12th grades and focuses on common age- related issues delivered through positive Christian messages, with aspirations to renew self-confidence and refresh their spirits. The Artists and Speakers will cover topics from social media, relationships, fashion, and how to live a life filled with grace; teaching life lessons from a biblical perspective while relating to teenage girls on their level, to truly impact their audience.
Founded by Point of Grace in 2002, the conferences grew out of their desire to bring teenage girls together, to talk about issues that affect them, and share that a relationship with Christ is the true source for peace and assurance in their lives. "At times girls feel like they are the only ones who struggle with certain issues," says Denise Jones of Point of Grace. "With a Girls of Grace conference it gives them the opportunity to come together in a large group and realize that we all have our own struggles, and yet, we are in this together."
A Mother's testimonial who attended last year's Girls of Grace conference, "I thought I was going so my daughter Sarah could get something out of it, but it touched me in so many ways. God was definitely in it and using it to change us all!"
For additional information and to register, please visit: www.girlsofgrace.com.
For a limited time only, advance tickets are available for $39, which includes a full day of Artists, Speakers, and lunch. Tickets are regularly priced from $49-$65.
Girls of Grace Conference Dates
08/11/2012 Christ United Methodist Church Jackson, MS
08/18/2012 Northside Baptist Church Charlotte, NC
09/22/2012 Grace Church Eden Prairie, MN
11/03/2012 Sunshine Community Church Grand Rapids, MI
11/10/2012 TBD Atlanta, GA
02/21/2013 Christ Church Nashville, TN
03/09/2012 Crosspoint Church St. Louis, MO
04/20/2013 Cottonwood Creek Baptist Church Dallas, TX
05/11/2013 TBD Orlando, FL

*Artists above will not be attending every date, please visit www.girlsofgrace.com for specific dates.
###