THE WEDDING HEADLINES THE NO DIRECTION TOUR WITH PIONEER, WAVORLY, SATELLITES & SIRENS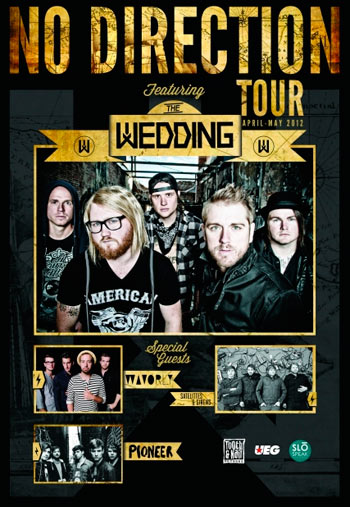 NEWS SOURCE: Slospeak PR
April 11, 2012
-APRIL 10, 2012 - Slospeak Records just announced that pop/rock act Pioneer will support the No Direction Tour this spring, featuring The Wedding, Wavorly and Satellites & Sirens. The tour runs from April 19 to May 14 and spans the the MidWest to SouthEast regions of the country.
To date, this is Pioneer's most notable touring venture. "We're really pumped to hit the road with The Wedding," says drummer Dan Voris. "It's an honor that they asked us. We're ready to see the fans again and play the new set."
The Wedding is equally prepared. "I'm so excited about the No Direction Tour," vocalist Matt Shelton shares. "It's our first tour of 2012, and the first time we will get to try out some of the jams from our upcoming record. We've put together a really fun package for the tour, so every night should be something to look forward to."
Current tour dates include:
4/19 Dallas, TX- The Door
4/20 Muskogee, OK - Church 418
4/21 Corpus Christi, TX- The Believers Fellowship
4/22 Lafayette, LA- Cafe Chi Alpha
4/23 Jackson, MS- Duling Hall
4/26 Bartow, FL- The Venue
4/27 Orlando, FL- H20 Live!
4/28 Jacksonville, FL- Murray Hill
4/29 Charleston, SC- The Warehouse
4/30 Columbus, GA- Gallery 13 Event Center
5/1 Marietta, GA- Swayzes
5/4 Cincinnati, OH- The Underground
5/5 Greenville, IL- Agapefest
5/6 Fairview Heights, IL- Faith Fellowship
5/8 Toledo, OH- Frankies
5/10 Evansville, IN- Wired Coffee House
5/11 Linton, IN- Anchored in Faith Ministries
5/12 Franklin, IN- The Gear Music Venue
5/13 Florissant, MO- The Melvin Theatre
5/14 Osceola, IA- House of Freedom
ABOUT THE WEDDING:
The Wedding is a five piece American rock band, with members from Fayetteville, AR, Dallas, TX, and Phoenix, AZ. They are known for putting on a high intensity live show. The Wedding has been a band since 2005. In that time they have released 3 eps, 2 lps, and have just finished recording their 3rd full length record to be released later this year. They have toured and/or played with bands like: Anberlin, Relient K, Brian "Head" Welch, Mute Math, Disciple, and House of Heroes to name a few. They have also managed to have 7 #1 singles spending 25 weeks in total at the #1 position on radio. The Wedding is: Matt Shelton (vocals), Cody Driggers (bass), Trevor Sarver (guitar), Adam Thron (guitar), and Matt Jameson (drums)
ABOUT PIONEER:
Pioneer is the story of five Midwest boys who love music. What they thought would only be a summer musical fling developed into tours during spring and winter breaks. Three years later and Pioneer (formerly known as News from Verona) touts national tours with bands like Manic Drive and festivals including Ichthus, Cornerstone and Spirit West coast. Their latest record dropped January 24, 2012, and saw its single, "Treason," climb to #1 on the BDS Rock Charts. Pioneer is: Josh Randolph (vocals, keys), Chad Shirrell (guitar,vocals), Dalton Meyers (guitar), Daniel Voris (drums) and Nick Berry (bass). For continual updates, logon to Facebook, Twitter and their Web site.
ABOUT WAVORLY:
Wavorly is a four piece alternative rock band from Nashville, TN. Originally forming in college in Mississippi, the band signed a deal with now-defunct Flicker Records (Sony BMG) in late 2006 and released their debut record "Conquering the Fear of Flight" in 2007, which spawned two Christian Rock radio number ones and their most popular song to date, "Praise and Adore (Some Live Without It)," which spent a lot of time in heavy rotation on many national CHR radio stations. After parting ways with Flicker, the band toured nationwide for the next four years, sharing the stage with bands such as Disciple, Pillar, Blindside, Project 86, Fireflight, House of Heroes, and current tour-mates The Wedding. In late 2011, Wavorly released "The EP," four songs produced by grammy nominated producers Rob Graves and Jasen Rauch and saw a first day digital showing of #15 on the Itunes Alternative charts and an overwhelmingly positive response from reviewers and fans alike. Wavorly is: Dave Stovall (vocals, guitar), Matt Lott (bass, vocals), Seth Farmer (guitar, vocals), and Teddy Boldt (drums).
ABOUT SATELLITES & SIRENS:
Satellites & Sirens is a four-piece synth-rock band from Nashville, TN that was formed off of Craigslist in 2008. They have been on a crazy ride ever since. S&S released their debut self-titled record in March 2010 on Word/Warner Bros, garnering them two Dove Award nominations: Rock/Contemporary album of the year, and Rock Song of the Year for their hit single, "Anchor". Not content with their critical success, the band has been touring relentlessly with such varied acts as Disciple, Point of Grace and Decyfer Down. Their second full length "Frequency" was released November 22, 2011, expanding on their unique brand of '80's infused synth pop rock. Satellites & Sirens is: Geoff Hunker (Vocals, Synth, Guitar), Jonathan Dimmel (Drums, Vocals), Dave Willey (Bass, Synth, Vocals), and David Troyer (Guitar, Vocals). Check them out online at Facebook, Twitter, and YouTube.
For more info on Pioneer visit the JFH Artists Database.