Centricity Music Signs Multi-Cultural Rock Band Unspoken With New Single "Who You Are" Going For Radio Adds May 11, 2012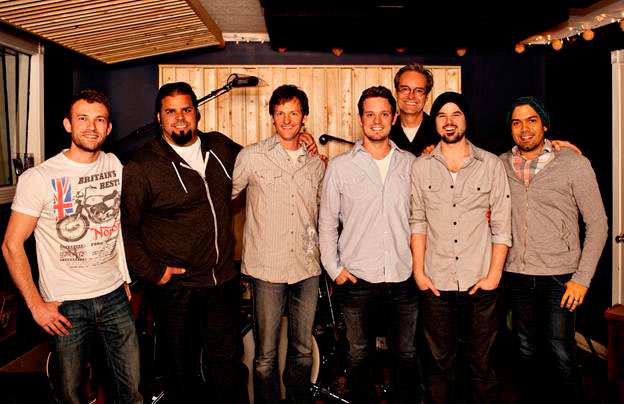 Left To Right: Jon Lowry, Ariel Munoz, Unspoken; Chris Smith, Collide Music Ventures ; Chad Mattson, Unspoken; John Mays, Vice President, A&R, Centricity Music; Jason Walker, Producer; Mike Gomez, Unspoken
NEWS SOURCE: Bozeman Media
April 13, 2012
Nashville, TN (April 13, 2012) ----- Centricity Music is happy to announce the signing of independent rock band, Unspoken, to the label's artist roster. Unspoken is in the studio putting the finishing touches on their new EP Get To Me, which releases in June. The first single "Who You Are" will be going for adds at radio on May 11th. Renowned songwriter/producer, Jason Walker, served as producer for the project. Unspoken is managed by Collide Music Ventures that is based in Nashville, TN.
"It's always difficult to find artists who know how to blend a high level of creativity with a high level of work ethic," explains John Mays, Vice President of A&R, Centricity Music. "As we got to know the guys from Unspoken, we realized God had led us to just such a band. These guys have been pounding the pavement for years, sometimes at great personal sacrifice, and all for the sake of and strong belief in what God has called them to do. We love their hearts and their story, and we can't wait to help share their music with the world."
"We are genuinely excited to join the Centricity team," says Chad Mattson, Vocalist for Unspoken. "We share the same passion for making great music and encouraging people to live for Jesus. We love the fact that Centricity has a mentoring heart, and it shows that they really care and want to see their artists reach their highest goals. To have the Centricity staff champion our project is both humbling and exciting."
Unspoken is a multi-cultural band comprised of four members that includes; Mattson and Jon Lowry (bass) who are both from Maine, Mike Gomez (electric guitar) from the Dominican Republic, and Ariel Munoz (drums) who hails from Puerto Rico. The group was initially formed in the Dominican Republic when Mattson went on a missionary trip to the country and began playing and songwriting with Gomez. Gomez came back to the states with Mattson when Lowry, a childhood friend of Mattson's, added his talents to the group. Munoz joined the band when he met Unspoken at Nashville talent contest. The group has made great strides as an independent artist, playing with such high-profile acts as Third Day, David Crowder, Casting Crowns, TobyMac, and Pillar. Their live performances are electrifying because they are a band who loves to worship, with the belief that as we seek to know the fullness of Christ personally, worship is freely and passionately given. The eclectic blend of ethnicity and musical backgrounds among the members of the group has led to one of the most unique and exciting sounds in Christian music today.
For more updates on Unspoken and their touring schedule please visit online at www.centricitymusic.com.
About Centricity Music
Centricity Music is an independent recording and publishing company based in Bellevue, Washington and Nashville, Tennessee. The company's mission is to enable our artists to create life-changing experiences for the world. Centricity Music's artist roster includes; Aaron Shust, Andrew Peterson, Downhere, Jaime Jamgochian, Jason Gray, Me In Motion, Remedy Drive, Sixteen Cities, and Unspoken.
####
For more info on Unspoken visit the JFH Artists Database.