Canopy Red Returns June 5th with Wake Up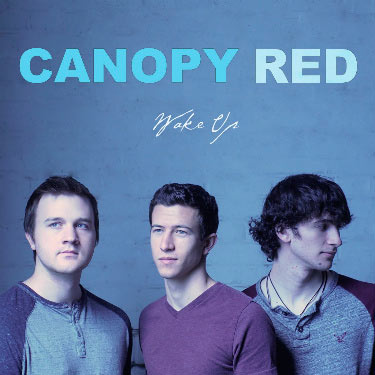 NEWS SOURCE: Nashville Publicity
April 17, 2012
(NASHVILLE, Tennessee) -- Modern rockers Canopy Red are back in the spotlight with their upcoming release, Wake Up, to be released on June 5th. Produced by Dove Award winning producer Rusty Varenkamp (Michael W. Smith, Sanctus Real, Tenth Avenue North), Wake Up is the band's first full-length album, and the long-awaited follow-up to their 2009 self-titled EP from Creative Soul Records. Their 2011 digital single "Here to Stay" reached #21 on Billboard's Christian Rock Chart.
"It was totally a God thing with Rusty where he was surfing the internet, our name caught his eye, he started listening to our stuff and felt for some reason he could help us out," says frontman Forrest Krazit of their collaborator and newfound friend. "It started out as a trip to his studio to record and co-write a couple of songs, but it turned out God led us to work together on a full record. Rusty is a genius at coming up with melodies. We wound up co-writing ten songs with him- and he was very reassuring in not only the musical direction of our band, but our lifelong calling as well."
Armed with a moniker that references the fact that all believers are sheltered by Christ's blood, Canopy Red blends alternative rock, pop and worship with the intention of delivering a message of hope and encouragement.
"Wake Up has a lot to do with the idea of not just being stagnant in your faith or getting stuck in the rut of class, homework, eat, sleep and repeat," explains guitarist Josh Schmidt. "It's about shaking off complacency and reminding ourselves that being a Christian is more than something for just Sundays and Wednesdays."
"We're definitely targeting our generation," adds Krazit, "but we're not pointing any fingers because we need to hear this message just as much as anybody else. We go to school, have our jobs and live the way we live, but that's not why we were created. We were created to glorify God and He has a plan for our life. Wake Up is all about knowing we're not just stuck here doing work, but we have a purpose and the ability to change people's lives."
Canopy Red's message can be heard loud and clear on Wake Up, such as the encouraging reminder that everyone has a divine destiny ("What I'm Waiting For"), the guys' quest to live authentically ("Disguise") and the bold challenge to take a stand ("Wasting Time"). The album also includes Christ-seeking battle cries like "Running After You" and "Sink Or Swim," the empathetic "Won't Let Go" and the worshipful "Forever."
The band has already made a splash all across America thanks to constant touring, performing more than 120 concerts each year for the past 4 years, including dates on the increasingly popular Extreme Tour. This summer, the band will spend 8 weeks as the artist-in-residence for Centrifuge Camp in Panama City, Florida, followed by an appearance at Rock the Universe at Universal Studios in Orlando.
Fans can pre-order Wake Up for a discounted price of $7 until June 5th at www.canopyred.com.
####