LINEUP FOR 8th ANNUAL SWITCHFOOT BRO-AM PRESENTED BY HURLEY WILL INCLUDE DEAD FEATHER MOON, THE HOWLS,
BRANDON AND LEAH, AND JON FOREMAN & FRIENDS
FREE CONCERT WILL BE HELD
SATURDAY, JUNE 16, IN ENCINITAS, CA AND WILL BENEFIT
SAN DIEGO AREA CHAPTERS OF STANDUP FOR KIDS

PRE-EVENT AUCTION SOIREE AND TWO-DAY SURF CONTEST
ROUND OUT BRO-AM FESTIVITIES

SWITCHFOOT'S VICE RE-VERSES, A LIMITED EDITION REMIX CD OF TRACKS FROM VICE VERSES, OUT ON RECORD STORE DAY, APRIL 21
NEWS SOURCE: Big Hassle
April 19, 2012
Dead Feather Moon (www.deadfeathermoon.com), The Howls (www.thehowls.com), Brandon and Leah (http://brandonandleah.com), and Jon Foreman & Friends will perform at the 8th annual Switchfoot Bro-Am Presented By Hurley (http://www.switchfoot.com/switchfoot/c/bro-am) at Moonlight Beach in Encinitas, CA on Saturday, June 16th.
SWITCHFOOT (www.switchfoot.com) conceived the Bro-Am as a way to give back to its hometown of San Diego. While admission to the beach event is free, funds are raised from beach vendors and sponsorships as well as at a pre-event auction night soiree. This year's Bro-Am will once again benefit San Diego area chapters of StandUp for Kids, a national nonprofit volunteer outreach organization founded in San Diego that is dedicated to making a difference in the lives of at-risk, homeless and street kids (www.standupforkids.org). Since its inception in 2005, the Bro-Am has raised more than half a million dollars for San Diego-based children's charities.
"The Bro-Am has been my favorite day of the year ever since we started it back in '05," notes SWITCHFOOT'S Jon Foreman. "We feel truly honored to again partner with StandUp For Kids, an incredible organization serving at-risk youth here in San Diego and across the country. Last year was our biggest year ever, and we hope to top it again this year. We are so grateful that our friends Dead Feather Moon, The Howls, and Brandon and Leah can join us for an incredible day of music and surf that will benefit a remarkable group of kids. " You can check out footage shot at last year's Bro-Am in this short video: http://www.youtube.com/watch?v=cEeYkgA9DIw&feature=share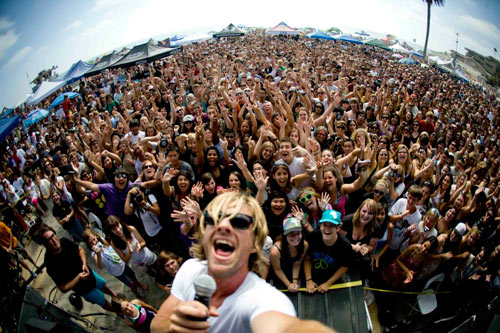 The festivities will begin with the Switchfoot Bro-Am Kickoff and Auction Night Soiree, which will take place on Thursday, June 14, at The Crosby at Rancho Santa Fe. It will feature VIP meet & greet opportunities, silent and live auctions, opportunity drawings, exclusive live entertainment, and delectable culinary creations and sips from such upscale establishments as Pacifica Del Mar, Solace & The Moonlight Lounge, Del Mar Rendezvous, Pacific Coast Grill, Zenbu, Rimel's, and many more. A limited number of tickets will be available for this special evening. Tickets will go on sale Friday, April 27. For further details, visit http://www.switchfoot.com/switchfoot/c/bro-am.
The annual surf contest has been expanded and will take place at Moonlight Beach over the course of two days - Friday, June 15, and Saturday, June 16. Four-person surf teams secure their participation via sponsorship donation to StandUp For Kids. Surf teams will feature riders representing Hurley, Billabong, Channel Islands, Transworld Surf, Surf Ride, Dragon, and many more, as well as members of SWITCHFOOT. Past competitors have included Rob Machado, Tom Curren, Dane Reynolds, Timmy Curran and many others. In addition to the surf contest and live music performances, the Bro-Am will also feature a nerf surf jousting exposition between surf contest heats as well as a junior division in the surf contest.
The 8th annual Switchfoot Bro-Am Presented By Hurley will again partner with San Diego-based Sustainable Waves to offer cutting- edge solar-powered sound and staging. Sustainable Waves utilizes the renewable energy sources of the sun to deliver 100% pollution-free concerts. By using solar power rather than a diesel generator or grid power, the Bro-Am will avoid emitting approximately 1,000 lbs of CO2 into the atmosphere (the equivalent of not driving your car approximately 1,100 miles or the annual sequestration of 66 trees). Beach vendorsconfirmed to be present at the 8th Annual Switchfoot Bro-Am thus far include Wahoo's, Harney Sushi, Surf Ride, Jedidiah, Clif Bar, Macbeth, Bull Taco, Honest Tea, Keep A Breast, Natural High, and H.O.C, Inc., among others.
SWITCHFOOT - comprising Jon Foreman (vocals/guitar), Tim Foreman (bass), Chad Butler (drums), Jerome Fontamillas (keys/guitar) and Drew Shirley (guitar) - recently launched its 2012 North American headlining tour. For itinerary, visit http://www.switchfoot.com/switchfoot/c/tourdates.
The GRAMMY®-winning band will celebrate Record Store Day by releasing a limited edition CD entitled Vice Re-Verses this Saturday, April 21. The EP features remixes of songs from its latest album, Vice Verses, by Paper Route's JT Daly, Owl City's Adam Young, Photek, Darren King and DandJ. A digital version of Vice Re-Verses will be released on May 1 and will include a remix of the band'snew single, "Afterlife," by Neon Feather, the winner of the Switchfoot Remix Contest sponsored by Ultimate Ears (http://www.talenthouse.com/remix-for-switchfoot).
###
For more info on SWITCHFOOT visit the JFH Artists Database.