NATALIE GRANT GARNERS FIFTH DOVE AWARD FOR
"FEMALE VOCALIST OF THE YEAR" AT
43RD ANNUAL GMA DOVE AWARDS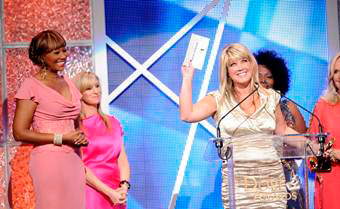 NEWS SOURCE: Rogers & Cowan
April 20, 2012
Nashville, Tenn. (April 20, 2012) - Recent GRAMMY ® nominated female vocalist and dove award forerunner Natalie Grant was honored last night as she accepted her fifth Dove for "Female Vocalist of the Year" at the 43rd Annual GMA Dove Awards. The highly anticipated event was held at the Fox Theater in Atlanta, GA and will air on GMC TV on April 24 at 8PM and 10PM ET.
Grant also received a standing ovation when she gave a powerful performance of the Dove and GRAMMY® nominated song "Alive" featured on The Story, alongside her husband and award-winning producer Bernie Herms.
Hosted by comedian Chonda Pierce and actor David Mann from Tyler Perry's sitcom Meet the Browns, music fans can tune into the nationally televised broadcast on GMC TV on April 24 from 8PM to 10PM ET.
For more information on the 43rd Annual GMA Dove Awards, please visit www.gospelmusic.org or www.doveawards.com.
###
ABOUT NATALIE GRANT: A powerhouse vocalist, heart-gripping songwriter and charismatic performer, Natalie Grant has an unshakable determination to remind us of the simple significance of love, and the revolutionary power that it carries, as expressed on her latest project, Love Revolution. Released in August 2010, Love Revolution gave Natalie the highest-selling debut of her career. As a Grammy Nominee, GMA Female Vocalist of the Year for four consecutive years (2006-2009) and the top-selling Adult Contemporary female solo artist in 2005, 2006 and 2008, Grant is among a select number of artists to have achieved a formidable foothold at mainstream media and radio. Despite these?accomplishments, it is the message of the Gospel, and the revolutionary power of love it carries, that she waves as her banner and her hope. Beyond her artistry, Grant remains an outspoken advocate for victims of human trafficking through Abolition International, which she created in 2005. She balances all of these endeavors with her greatest calling-as a wife, and mother of three.
ABOUT GMA: Founded in 1964, the Gospel Music Association serves as the face and voice for the Gospel/Christian music community and is dedicated to exposing, promoting and celebrating the Gospel through music of all styles including Pop, Rock, Praise & Worship, Urban Gospel, R&B, Hip Hop, Southern Gospel, Bluegrass, Country and more. The GMA community membership consists of agents, artists, church leaders, managers, promoters, radio personnel, record company executives, retailers, songwriters and other industry visionaries. The GMA produces the GMA Dove Awards and IMMERSE. For more on supporting the GMA or becoming a member, please visit www.gospelmusic.org, www.facebook.com/gospelmusicassociation.
For more info on Natalie Grant visit the JFH Artists Database.