BEC RECORDINGS ANNOUNCES NEW ADDITION TO THE LABEL FAMILY:
AN EPIC, NO LESS
DEBUT SINGLE AND VIDEO PREMIERE OF "MERCY LIGHT" TODAY

"Echoing Love through Worship and Prayer"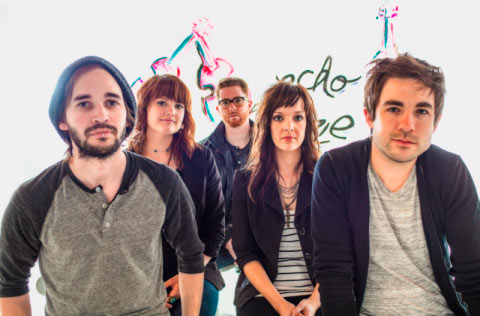 NEWS SOURCE: Merge PR
April 24, 2012
Seattle, Wa -April 24, 2012-BEC Recordings announces the expansion to the label family with the signing of An Epic, No Less to the roster. Hailing from St. Louis, this new band will release their label debut Echo of Love on August 14, 2012. Today the debut radio single, "Mercy Light," will be available for radio programmers and going for adds May 4 at CHR radio.
"What we have to offer in this world is the skill and the art that the Lord gives us," shares guitarist Neil Endicott. "As we work, we pray together that God performs in us those greater goals and the greater dreams that He has for us."
Along with the radio single, the music video for "Mercy Light" is debuting today. Click here to view the video. "Mercy Light" is about the rescue from the many forms of modern slavery. The video idea stems from one of the most difficult and complicated issues in the U.S. and around the world today --human trafficking. On the surface the story being told is one of rescue, but the band's intent is to speak of a far more deeply seeded issue. It is their prayer that the church would be a light to even the most difficult and unspeakable problems that it faces.
An Epic, No Less was born from the word of God in frontman Todd Larson's heart.
"It has been my experience that the times when God speaks most clear are the moments when we least expect to hear from Him," shares Larson. "My moment of clarity came laboring in an orphans' hostel in Uganda many years ago."
It was that day in Uganda that the voice of the Lord reminded Larson that the gates of Christ's kingdom are called to praise. Knowing that his best friend and drummer Daniel Chancellor shared this passion, there was no better fit to join the team. Also, with them, in the mission to create genuine music that is born from a place of worship are Daniel's wife Hannah Chancellor (Piano/Vocals), Britney Stutz (Violin) and Neil Endicott (Guitar).
Stay tuned for more information on An Epic, No Less and their debut, Echo of Love.
For more info on An Epic, No Less visit the JFH Artists Database.