BIG IDEA ENTERTAINMENT TO RELEASE BRAND-NEW
PRINCESS THEMED DVD TITLE
VeggieTales®: The Penniless Princess-God's Little Girl
DVD Features A Lesson In Self Worth and Trusting God - No Matter What;
Launch Supported by Extensive Marketing, Promotional and Licensing Campaign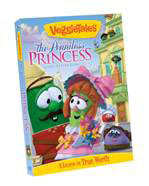 NEWS SOURCE: Hoganson Media
May 1, 2012
FRANKLIN, TN (May 1, 2012) -- Big Idea Entertainment, a leading studio and producer of children's and family programming, characters and brands, announced today they will release a brand-new DVD title, VeggieTales®: The Penniless Princess-God's Little Girl, on August 11 and August 14, 2012 in Christian and general market stores respectively. This title follows the release of the top-selling VeggieTales®: Sweetpea Beauty-A Girl After God's Own Heart and VeggieTales®: Princess & the Pop Star, both of which featured lessons of specific interest to young girls.
The DVD's story is based on the children's book, A Little Princess, by Frances Hodgson Burnett, and helps to teach an important lesson about knowing your own true worth inspired by Philippians 4:8, as well as trusting God, no matter what happens in life, based on Romans 8:39. VeggieTales: The Penniless Princess-God's Little Girl includes plenty of engaging and fun music fit for families, with the all-new Silly Song "Best Friends Forever" and the featured song "No Matter What," both in sing-along versions in the DVD bonus features. Other bonus features include a special tour of London with the popular French Peas characters, a hilarious look at the history of the Teddy Bear, a discussion guide for parents and behind the scenes clips.
"Parents are longing for media with a message that helps their little ones understand their unique value and true worth," said Greg Fritz, SVP Sales & Marketing of Big Idea Entertainment. "Our 'penniless' princess is the opposite of traditional royalty - she's not wealthy and she's not glamorous. Yet she is rich with faith, hope and love and forgiveness - qualities that help her face life with strength of character and a strong sense of worth, which is a treasure that will last a lifetime."
VeggieTales: The Penniless Princess-God's Little Girl's launch is supported by a comprehensive marketing, advertising and licensing campaign. Promotional partners include Chuck E. Cheese's® with in-store video monitor clips and VeggieTales activity booklets. Starting this summer, Big Idea Entertainment will hold MLB and MiLB stadium DVD promotions during select games. "Princess Party" live events will take place in select retailers and churches to coincide with the DVD release date.
DVD Synopsis
Sweet Sarah Crew has everything a little girl could want - a loving family, lots of friends and a closet full of frilly dresses! But when life takes a turn and Sarah goes from riches to rags, will she realize that her true worth lies not in what she has, but what she has in her heart? Find out in this inspiring new story from VeggieTales that reminds kids who they are in God's eyes.
Advertising, Radio, TV and Online Support
The title's marketing and advertising campaign includes extensive print, television, radio, and online advertising, as well as social media promotions on Facebook, Twitter, Tumblr, Pinterest, Google+, YouTube and interactions with mom and parenting bloggers. A theater trailer promotion will air on more than 1,000 screens across the country, and street level promotions with more than 250 members of the VeggieTales Ambassador team are also slated to take place this summer.
Promotional Partners
Chuck E. Cheese's will run indoor advertising on closed-circuit televisions and in their birthday party area at over 500 locations. Clips from The Penniless Princess DVD and the Silly Song "Best Friends Forever" will play, and nearly half a million VeggieTales activity booklets will also be available in the prize redemption area. The activity booklets will feature Penniless Princess themed puzzles and games, and will mention the DVD release date.
Non-Profit Partners
Big Idea Entertainment has teamed up with Mercy Ministries® to help hurting girls free of charge restart life with a new perspective. VeggieTales: The Penniless Princess-God's Little Girl will feature a custom promotional video to help drive donations to the ministry's Mercy360 program and encourage supporters to play a vital role in restoring lives for less than $1/day. There will also be a Mercy Ministries ad on the DVD's insert. In addition, the partnership will encompass an email campaign, website presence, radio promotions, social media presence and mentions in some of Mercy Ministries' Founder Nancy Alcorn's speaking engagements.
Other non-profit organization partnerships include a continuing campaign with American Heritage Girls with a co-branded guide for girls to help understand their true worth, and a VeggieTales "The Penniless Princess" badge program. In addition, VeggieTales will partner again with MOPS (Mothers of Preschoolers) during the August national convention with VeggieTales animation to introduce key speakers, plus co-branded lesson guides as a resource to young mothers.
Consumer Products
Starting in August, Big Idea Entertainment will roll out a line of VeggieTales Princess-themed toys and books including a God's Little Girl Journal and Devotional Prayer Book, God's Little Boy Journal and Devotional Prayer Book, a Bath Toy, Princess Dress-Up Set, a Ring Stacker and a Learning Carpet and Pop-Up Playhouse.
Live Events
DVD promotions including on-field contests and games, DVD giveaways for a row of seats, and jumbo-screen graphics and animations with VeggieTales characters in-action will take place in select stadiums at over 70 MLB and MiLB games this summer.
Christian retail outlets will coordinate "Princess Parties," DVD screening and events at over 250 stores nationwide, and more than 1,500 churches will host events to show The Penniless Princess and organize "Princess for a Day" events starting in July.
About VeggieTales: The Penniless Princess-God's Little Girl
Not Rated-50 minutes-Color-5.1 Surround Sound-English & Spanish Subtitles Close-Captioned
Full Screen & Widescreen Versions
DVD UPC Codes CBA: 820413125790 $14.99 (through Word Distribution) and GM: 883476081304 $14.93
About Big Idea Entertainment
Big Idea Entertainment is a leading studio and producer of children's and family programming, characters and brands. Big Idea's best-selling series VeggieTales® is a leading animated home video series in the US with moms of pre-schoolers*. Since 1993, VeggieTales® has sold 60+ million videos, 13 million books and more than 7 million CDs. VeggieTales® and Big Idea's property, 3-2-1 Penguins!®, enjoyed four seasons as top-rated series on NBC Saturday mornings, Telemundo and ION TV via the qubo® children's programming block. The studio's two theatrical releases, Jonah-A VeggieTales Movie® (2002), and Universal Pictures' and Big Idea's The Pirates Who Don't Do Anything®-A VeggieTales Movie® (2008), are distinguished among the most successful faith-based films of all time. Big Idea also maintains an extensive presence in publishing, licensing and live entertainment arenas. For more information on Big Idea, visit: www.VeggieTales.com.
*Spring 2011 Q-Score
# # #