THE STORIES BEHIND THE SONGS
THAT CHANGED THE WAY WE WORSHIP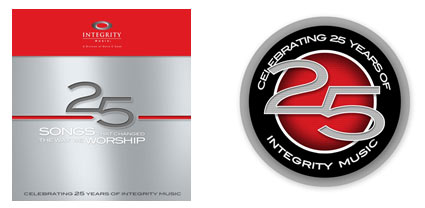 NEWS SOURCE: Hoganson Media
June 26, 2012
Integrity Music is celebrating 25 years of music and ministry with a landmark anniversary double-CD and bonus DVD, 25 Songs That Changed The Way We Worship, releasing today! Song stories for each of the 25 songs are included in the packaging, and a few of these compelling stories are included for you below!
"Shout to the Lord"
Artist: Darlene Zschech
Writer: Darlene Zschech
Some of the most moving songs of praise are often birthed from times of despair. Such was the case with "Shout to the Lord." While going through a difficult time and desperate for the peace of God, Darlene Zschech sat down at her old piano, the same one she'd had since she was five years old. She turned to Psalm 96, and without setting out to do so, she penned one of the Church's most well-known praise songs in about 20 minutes.
Though she had been writing songs since her teens, Darlene never considered herself a songwriter. And it was with trepidation that she shared the song with her church. But the response was immediate and the song quickly traveled around the globe, giving believers new words to express their hearts to God.
"You Are Good"
Artist: Lakewood Church
Writer: Israel Houghton
Born to an unwed teenage mother whose parents had urged her to have an abortion, Israel Houghton could easily have become a statistic, but for the goodness of God.
Eight months into her pregnancy and abandoned by her family, Israel's mother met Jesus on a street corner when a complete stranger walked up to her and shared the Gospel. That "chance" encounter radically changed his mother's life and his own. So when Israel penned "You Are Good," drawing from Psalm 100, he did so from a very personal place. He knows the radical goodness, love and mercy of God.
"Open The Eyes Of My Heart"
Artist: Paul Baloche
Writer: Paul Baloche
While leading worship one morning, the phrase "Open the eyes of my heart" popped into Paul Baloche's mind. "I'd heard a pastor pray that a couple of years before and I had written it in my journal," recalls Paul. "Later, I looked into Ephesians 1:18 and spent some time there, praying that."
So as Paul was leading, he sang out, "Open the eyes of our hearts, Lord. Open our eyes, Lord. We want to see You.'" He wasn't sure of how the rest of the song came, other than that he was thinking about Isaiah, "Lord, to see You high and lifted up." Thankfully, Paul's sound technician was recording the service and captured the moment. "It just felt like the sincere prayer of our hearts at that moment," Paul remembers.
"I Am Free"
Artist: New Life Worship
Writer: Jon Egan
For years, Jon Egan struggled with anxiety and depression. After a particularly difficult struggle with anxiety over his ability to lead worship, he found himself once again asking God for freedom from fear. But this time, he distinctly heard God tell him, "You are free… look to the cross and open your eyes." Jon recalls hearing God tell him to quit focusing on his fears and instead focus on who He said Jon was, not who Jon thought he was.
As this truth settled into Jon's spirit, he picked up his guitar and decided that rather than singing about how he wanted to be free, he would instead declare the truth that he IS free!
"Give Thanks"
Artist: Don Moen
Writer: Henry Smith
In 1978, a young seminary graduate named Henry Smith was struggling to find work and coming to terms with a degenerative eye condition that would eventually leave him legally blind. Despite those hardships, Henry found hope in 2 Corinthians 8:9 and penned "Give Thanks," one of the most beloved songs of our time. And now let the weak say, 'I am strong'; Let the poor say, 'I am rich' because of what the Lord has done.
Years later, a young worship leader named Don Moen would record Henry's song, helping to carry it around the world. Today, you can hum "Give Thanks" at almost any church in the world, no matter the country or the language, and someone will recognize this simple song of thanksgiving and trust.
"God Will Make A Way"
Artist: Don Moen
Writer: Don Moen
After learning that his young nephew was killed in a car accident, Don Moen searched for some way to help bring comfort to his grieving family even as he struggled with his own sorrow. While reading Isaiah 43, he asked God to give him something that would bring hope to the family in the middle of a hopeless situation. As he prayed, the words for "God Will Make A Way," came to mind. He works in ways we cannot see, He will make a way for me.
For a while, that song remained a private message for his family. But slowly, he began sharing it with others and soon found that it was a message for the whole church. A message to cling to when "there seems to be no way."
"Lord Have Mercy"
Artist: Eoghan Heaslip
Writer: Steve Merkel
Before the Berlin Wall came down, Steve Merkel spent time in Poland ministering with Catholic believers. It was a season that opened his heart to the beauty of liturgy and the richness of our shared faith. When he returned home, he often led worship at his local charismatic church on Sundays and at Catholic services during the week. Along the way, it became clear to Steve that both streams needed the other. So while working on a liturgical worship album for Integrity Music in the late 90's, Steve was inspired to write a "Kyrie for the Common Man."
"I dropped the bucket down into the well of my life and truly documented the things for which I needed the mercy of the Lord," says Steve. "'Lord Have Mercy' became the musical setting formed from the prayers that came up from that well."
###