BIG IDEA ENTERTAINMENT EXTENDS
THE VEGGIETALES LIVE! GOD MADE YOU SPECIAL TOUR
TO MORE THAN 45 CITIES SEPTEMBER 13 - NOVEMBER 15, 2012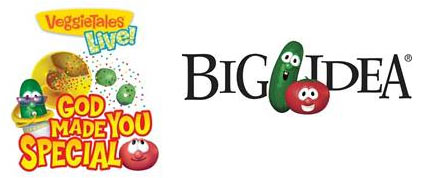 NEWS SOURCE: Hoganson Media
July 16, 2012
FRANKLIN, TN (July 16, 2012) -- Big Idea Entertainment, a leading studio and producer of children's and family programming, characters and brands, announced today they will extend their highly successful VeggieTales Live! God Made You Special tour in over 45 major markets nationwide-including Tulsa, Phoenix, Las Vegas, Tampa and more-beginning September 13, 2012. For the current tour itinerary, ticket information and group sales, please visit VeggieTales.com/live.
Something has gone haywire at the Silly Song Warehouse - and one of the beloved VeggieTales® silly songs is missing!! Join Bob, Larry, Junior and the whole gang as they attempt to solve the mystery of the Silly Song Bandit while singing and dancing to a truckload of silly songs! Featuring top Veggie fan favorites including "The Hairbrush Song," "God Is Bigger Than the Boogie Man," "The Pirates Who Don't Do Anything," and many more, this high energy show will delight children and remind them that God made them special and loves them very much - no matter what!
"The VeggieTales Live God Made You Special Tour is a big hit with families as they laugh, learn and sing along with the show," said Leslie Ferrell, General Manager of Big Idea Entertainment. "We encourage you to come out and join the fun with the VeggieTales crew at a theater or church near you."
World Vision® continues to partner with Big Idea Entertainment as a sponsor for the VeggieTales Live! God Made You Special tour. Through World Vision's child sponsorship efforts, countless lives have changed for children and their whole communities by providing access to necessities like clean water, health care, education and much more.
About Big Idea Entertainment
Big Idea Entertainment is celebrating 20 years as a leading studio and producer of children's and family programming, characters and brands. Big Idea's best-selling series VeggieTales® is a one of the most recognized brands in the US with moms of pre-schoolers*. Since 1993, VeggieTales® has sold 60+ million videos, 13 million books and more than 7 million CDs. VeggieTales® and Big Idea's property, 3-2-1 Penguins!®, enjoyed four seasons as top-rated series on NBC Saturday mornings, Telemundo and ION TV. The studio's two theatrical releases, Lionsgate's Jonah-A VeggieTales Movie® (2002), and Universal Pictures' The Pirates Who Don't Do Anything®-A VeggieTales Movie® (2008), are distinguished among the most successful faith-based films of all time. Big Idea also maintains an extensive presence in publishing, licensing and live entertainment arenas. For more information on Big Idea, visit: www.VeggieTales.com. *Spring 2012 Q-Score
# # #