KUTLESS' NEWEST RADIO SINGLE "EVEN IF" RESONATES STRONGLY WITH FANS
BELIEVER TOUR THIS FALL WITH FIREFLIGHT AND SPECIAL GUESTS HYLAND, RHETT WALKER BAND AND ERIC SAMUEL TIMM
NEWS SOURCE: Merge PR
August 28, 2012
SEATTLE, WA -August 28, 2012 - Earlier this year BEC Recordings' Kutless released their newest studio release Believer to much media and sales acclaim debuting at No. 1 on the Billboard Christian & Gospel Chart as well as No. 1 on the iTunes Christian Albums chart. The album's debut radio single "Carry Me To The Cross" reached listeners across the country as it held strong at No. 1 for six weeks on the Inspo chart as well as in the Top 10 at National Christian Audience, CHR and AC Indicator charts. Now Kutless is back with the second single from Believer with the emotional "Even If," and it is already impacting radio listeners.
"Even If" continues to build momentum at radio each week. At AC Monitored it has been the highest debuting single and already charting in the Top 30 as well as at AC Indicator where it continues to climb entering this week at No. 17. At CHR, "Even If" has moved up to No. 22 and into the Top 20 at No. 16 on Inspo.
"From a spiritual perspective, 'Even If' is probably the most difficult and challenging song on our new record," explains frontman Jon Micah Sumrall. "It directly addresses the question of 'what do we do when the answer to our prayers is no?' I have grown to realize that while we often pray for temporary or immediate comfort, God is doing a work on an eternal scale that far exceeds anything we could have ever imagined. He never promises that life will be easy, only that He will be faithful to never leave us or forsake us, and He promises that the end of the story will be glorious."
Kutless wants listeners to know that even when hurt and heartache persist, they must trust that God knows best, and that while we may not understand immediately why we must endure these things, ultimately He is in control and is creating what will some day be a glorious ending.
"Two weeks after buying Believer a good friend and sister in the Lord passed away due to cancer. The evening before she passed I watched the slide show video of "Even If." Having been blessed by this song, my thoughts were put in the right perspective, remembering the awesomeness of our God and His ways are not our ways. The healing may not have come in this life for her, but God chose to heal her in taking her home." - Kim
"When I first heard "Even If," I have to be honest and say the words stung but now they bring me comfort. I know that physical and/or medical healing may never come, but I continue to sing His praises. I would not trade this journey for anything as I know He is the good and faithful one who is working through me." - Jennifer
Kutless will be headlining their own tour this September along with Fireflight and special guests Hyland, Rhett Walker Band and Eric Samuel Timm. The Compassion International sponsored Believer tour will begin on September 12 in Colorado and conclude on October 28 in Michigan. Tour dates are listed below.
Media also have praised Kutless' newest release stating that the lyrics are "thought-provoking, moving and requesting change" as well as that the album is the "band's crowning achievement" and "by far their best work."
About Kutless
This Portland, Oregon-based Kutless has emerged as one of the premiere rock, worship bands. With over two million albums sold, a RIAA Gold-selling album, AC Song of the Year in 2010, and 11 No. 1 radio singles, Kutless has transformed from that new rock band from Oregon to the one new bands look up to, the band whose music is all over the radio in multiple formats and on major tours. Believer finds Kutless using a decade of growth to deliver an expertly crafted set of songs with as much diversity in the music as there is consistency in the message.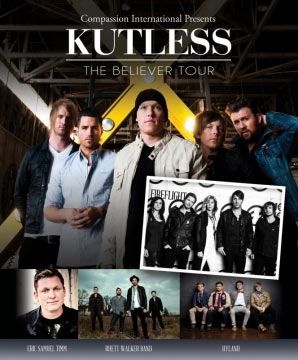 Kutless Believer Tour
*All Dates Subject to Change
9/12/12 Parker, CO Southeast Christian Church
9/13/12 Roswell, NM Grace Community Church
9/14/12 Glendale, AZ North Hills
9/16/12 Highland, CA Immanuel Baptist Church
9/20/12 Del Rio, TX Civic Center
9/21/12 Corpus Christi, TX The Church of Acts
9/22/12 Greenville, TX Municipal Auditorium
9/28/12 Shallotte, NC Highest Praise Worship
9/30/12 Valdosta, GA Mathis City Auditorium
10/5/12 Williamsport, MD Gateway Ministries
10/6/12 Lancaster, PA Lancaster Bible College
10/11/12 Westfield, MA Westfield Evangelical Free Church
10/12/12 Charleston, ME Charleston Pentecostal Church
10/13/12 Rehoboth, MA Francis Farm
10/18/12 Weston, WI Mount Olive Lutheran Church
10/19/12 Madison, WI Door Creek Church
10/20/12 Kearney, NE The Kearney Evangelical Free Church
10/21/12 Sioux City, IA Cornerstone Worship Center
10/25/12 Circleville, OH Ohio Christian University
10/26/12 Elkhart, IN Grand Horizon Center
10/27/12 Lansing, MI Mount Hope Church
10/28/12 Sault Sainte Marie, MI Kewadin Casino
- ### -
For more info on Kutless visit the JFH Artists Database.