Emerging Band 'Finding Favour' Finds Label Home With Gotee Records
Debut single "Slip On By" is available now
at digital retailers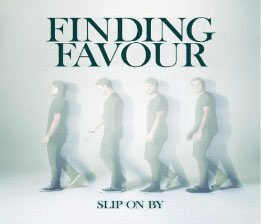 NEWS SOURCE: The M Collective
September 11, 2012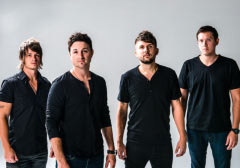 Nashville, Tenn. – (September 11, 2012) – Finding Favour has found a home with Gotee Records and it has never felt more sweet.
"We're so excited to be a part of such an amazing team at Gotee," said Blake NeeSmith, lead vocals for the band. "This is where God's been leading us for years and now we know we're home. We pray that our hearts and songs will shine bright into the darkness and together make an extraordinary difference!"
Comprised of Blake NeeSmith (lead singer/vocals), Dustin Daniels (bass/guitar/vocals), Josh Duckworth (drums) and Allen Dukes (guitar/vocals), this south Georgia based group is making their debut with the emotionally powerful single, "Slip On By." Watch the official lyric video: http://youtu.be/UrrXghWl0bM?hd=1. Produced by Christopher Stevens (TobyMac, Sanctus Real, Mandisa) the single was written by the members of the band along with Stevens based on Neesmith's conversations with his grandfather encouraging him to not let the blessings of life pass you by.
"Once in awhile you hear a special song that immediately takes you somewhere," said Toby McKeehan, Gotee Records co-founder and president. "It causes you to think and feel. And without preaching at you, it reminds you of the things that really matter. 'Slip On By' by Finding Favor is one of those songs. It grabbed my heart and stirred some emotion in me that made me want to live differently.
"Slip On By" is available now at all digital retailers: http://bit.ly/findfits. Finding Favour is currently in the studio working on their EP and will kick-off the fall on the "Live It Out Tour" with Abandon and Anthem Lights in Jasper, AL.
Meet Finding Favour and check out their acoustic performance of "Slip On By": http://youtu.be/ejWDuUTKq5Y?hd=1
Finding Favour with Jamie Grace and TobyMac
[Get Connected with Finding Favour]
Website // http://www.findingfavour.com
Twitter // http://www.twitter.com/findingfavour
Facebook // http://www.facebook.com/pages/Finding-Favour
iTunes // http://bit.ly/findfits
For more info on Finding Favour visit the JFH Artists Database.