AUDIO ADRENALINE ANNOUNCES OFFICIAL RETURN
Founding Members Mark Stuart And Will McGinniss Joined By New Band Lineup, Including Friend And Iconic Vocalist Kevin Max

Band Will Release New Album In March 2013 In Support of
Hands & Feet Project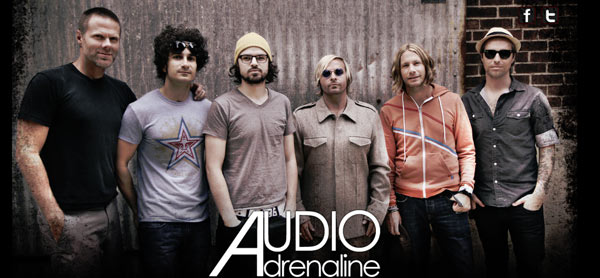 NEWS SOURCE: Merge PR
September 18, 2012
18 September 2012 - Nashville, Tenn - Amidst the speculation and rumors that have been circulating for weeks, Audio Adrenaline officially announce their return. With the same heart, passion and infectious musical prowess they developed as a band in the 1990's, multi-GRAMMY® award-winning Audio Adrenaline is indeed back and putting together a new lineup of like-minded musicians with the same common goal; to be the voice for orphans in Haiti and around the world. The Know Hope Foundation, supporters of Audio Adrenaline and Hands & Feet Project, as well as record label Fair Trade Services, have joined them in this renewed mission to fund and market a new record from which net proceeds will go to Hands & Feet Project to continue growth and support of the nearly eight-year-old charity.
Five years ago, the band gathered in Hawaii along with their biggest fans for what they thought was their last performance. Since that emotional finale concert, founding members Mark Stuart and Will McGinniss have tirelessly worked to raise awareness and support for the 100 orphans currently being cared for in Jacmel and Grand Goave, Haiti. Now, with additional new band members and a larger mission goal, there is no question the world is ready for the "new" Audio Adrenaline.
Stuart and McGinniss are still very much a part of the re-formed band. McGinniss continues his role as the band's bassist while Stuart, although stepping down as lead vocalist due to his spasmodic dysphonia, causing involuntary muscle spasms of the larynx, is very much a part of band decisions and writing on many of the songs for the new album. Taking over lead vocals is former dcTalk member and industry mainstay Kevin Max, while CCM vets Dave Ghazarian (Superchick) is on guitar, Jared Byers (Bleach) is the band's drummer, and singer-songwriter Jason Walker plays keys.
"I've never been more excited about an Audio A record," shares Stuart. "We've collectively poured into each song for months, and I love every track. Being able to help write and direct the process of putting the band back together has been an absolute joy. I can't wait to see our fans sing along with Kevin on the AA classics and fall in love with the new songs."
As just released in Billboard, the brand new album is slated to release March 2013. The first single, "Kings And Queens," will hit Christian radio in November. "It's just an incredible song about this idea of when we love the least of these, God wraps these little orphans in his majesty and they can become kings and queens," Stuart says of the song. "It gives you that idea that these are God's favorites, these little kids that have been forgotten. There's going to be a special place in heaven one day because of what they've been through here. It's just a triumphant, majestic song that just connects so deeply with Hands & Feet and the message of Audio A right now."
When the decision was made to re-launch the group, there was a lot of thought to who would be the right selection to carry on the mantle of lead vocalist for Audio Adrenaline. When conversations were had with the band's new manager, Wes Campbell of First Company Management, the idea was raised to talk to Kevin Max, a long-time friend of the band. Most of all, Max understands the passion for orphan care and Hands & Feet because he, just like many of the children at Hands & Feet Project, had been orphaned as a small child.
McGinniss shares, "We have joined together under the new banner of Audio Adrenaline, yet the common thread that brings all of us together is for a much greater reason. We are beyond excited to finally share why we are putting the band back together."
Fair Trade Services, the new label home for Audio Adrenaline, could not be more excited in their unique partnership with Know Hope Foundation and the Hands & Feet Project, and name the band as part of their stellar roster. Shares Jeff Moseley, Fair Trade Services President, "We would like to see the orphans in Haiti taken care of and given a chance to succeed in life. As believers and leaders, we must do good while we are doing well. This is our mandate as followers of Christ and this is our mandate as humans."
# # # #
ABOUT HANDS & FEET PROJECT
In 2004, the members of Audio Adrenaline founded the Hands & Feet Project. Inspired by fan reaction to the band's song "Hands and Feet," HAF is a non-profit organization dedicated to providing long-term, family-style care for orphaned and abandoned children with the love of Christ. They strive to raise a generation of orphaned children who will grow up to reach their God- given potential, while empowering first world citizens to partner with them in service at home and abroad.
The organization broke ground on their first Children's village in Cyvadier, a small town on the Southern coast near Jacmel, and began their journey of serving the forgotten children of the impoverished Caribbean nation. Currently tending to over 70 children in Cyvadier, a second village opened in Grand Goave in 2008 and is caring for 30 children. handsandfeetproject.org.
ABOUT FAIR TRADE SERVICES
Fair Trade Services, LLC launched in June 2011 by music industry veteran Jeff Moseley. Fair Trade Services is a partnership based on dialogue, transparency, and respect, formed for the development of remarkable Christian artists who desire artistic excellence, cultural relevance and spiritual significance. Located in Brentwood, Tennessee, their roster includes MercyMe, Laura Story, Audio Adrenaline, The Afters, Phillips, Craig & Dean, Derek Webb, Sara Groves, Phil Wickham, Disciple, Mark Schultz and more. Fair Trade Services is distributed by Provident Distribution and Sony Music. fairtradeservices.com.
For more info on Audio Adrenaline visit the JFH Artists Database.