GABRIEL WILSON RELEASES REDEMPTIVE PROJECT
THE MCGUIRE SIDE
Album Already Described As "Raw," "Honest," And "A Masterpiece," And Wilson Touted "A Treasured Artist"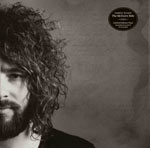 NEWS SOURCE: Merge PR
September 28, 2012
Nashville, Tenn - 28 September 2012 - Last week Gabriel Wilson debuted his heartfelt solo project, The McGuire Side. Produced by Wilson and Tom Maple, the songs found on The McGuire Side share Wilson's personal journey with his family, showcasing a vulnerability and truth that listeners from all backgrounds can identify.
The musical stories shared within The McGuire Side began when Gabriel Solomon McGuire was born to young parents who divorced when he was just a toddler. Although taking the last name of his stepfather, Wilson reconnected with his birth father as an adult and learned his grandfather was a traveling minister, singer and songwriter, and that his family had deep roots in Southern Gospel music. Wilson quickly began to decipher his own musical genes and from where came his own talents came.
He crafted The McGuire Side with of his feelings of missed opportunities and abandonment, of hope and belonging into his own family tree. "I started to see this story emerging. It was like a tapestry with pieces from my dad, my grandfather and me. It was all about redemption, reconciliation, and embracing a lost family heritage."
Now that The McGuire Side has released, Wilson has been able to share his story with the world. What's been said about the new record? From being described as "raw" to "honest" Read on from fans and media alike:
"Gabriel Wilson is 'it.' He's the elusive musician, the one that is so hard to find. He plays from his heart, for his heart, and for your heart all at once." - Colossal Pop
"While The McGuire Side is a heart wrenching look into the personal life of one person, the lyrics and heart behind the song are so very accessible and possibly heart changing to those that are seeking 'why' answers to their own difficult circumstances." -Alpha Omega News
"The McGuire Side is completely different from Wilson's other work, but it is clearly the most honest and raw representation of who he is. It was a privilege to hear his story and feel like I was a part of it while listening to this album." -Lifter Magazine
"With an Americana feel and introspective tone, Wilson embraces his own experiences and sets them to music so that others can be encouraged to find their identity in Christ, and ultimately mend those broken relationships. I am truly thankful for honest artists like Wilson who are unafraid to touch on life's realities, so that others will know they're not alone." - New Release Tuesday
"The McGuire Side is a beautiful album that really develops a wonderful, true story. Hopefully it's just the start of more great solo projects from this treasured artist." - JesusFreakHideout
"This project is the masterpiece of a man who has the courage to stare down his past, look it straight in the eye and glean all the brilliance from it. Wilson has the wisdom and grace to allow the broken places to be sources of healing for himself and his listeners." - a fan
"This whole album is filled with a timeless classic sound…Ray Lamontagne, Tom Petty and The Beatles are obvious influences mixed with transparent, poetic lyrics that will fill your heart with emotion. It's a great album, full of redemption!" - a fan
Check out The McGuire Side, available now on iTunes. To view the story behind The McGuire Side, please visit: www.GabrielWilson.net.
About Gabriel Wilson:
Gabriel Wilson crafted one of the more popular mainstream club bands in the Pacific Northwest before an African mission trip changed his life. Helming The Rock & Roll Worship Circus, a multi-Dove Award-nominated, glam and spiritually focused rock experience with songs designed for congregational worship inspired by The Rolling Stones, Big Star, Cheap Trick and The Who, The Worship Circus then evolved into his more ambient band, The Listening. During his career, Wilson has sold out clubs, headlined European festivals, toured with Delirious, and even became a staff worship pastor at a 3,000 member church in Folsom, California. He continues to work as a producer, an engineer, a songwriter and worship leader, and currently resides in Redding, California with his wife and daughters.