THOUSAND FOOT KRUTCH GIVES TWO FREE SONG REMIXES TO FANS AS PROMISED
AFTER NO. 1 BILLBOARD HARD ROCK SALES DEBUT
"WAR OF CHANGE" FROM THE END IS WHERE WE BEGIN SHOT TO
NO. 1 ON SIRIUSXM OCTANE THIS WEEK,
BECOMES NO. 1 MOST ADDED ON A BILLBOARD ROCK CHART,
GATHERS OVER THREE MILLION YOUTUBE VIEWS

Album Sales Continue To Build As TFK Wraps
Rockstar Energy Drink UPROAR Festival Tour
NEWS SOURCE: Hoganson Media
October 4, 2012
Following the release of their independent, 5-star acclaimed The End Is Where We Begin, THOUSAND FOOT KRUTCH members took the album tracks back into the studio in order to deliver two remixed songs from the recording for free to their fans. Prior to the album's April 17 release, the band offered the song remixes if the new project hit inside the Billboard Top 20 for overall music sales. Breaking down that barrier with the help of their fans, THOUSAND FOOT KRUTCH members charted their highest sales debut ever, landing at No. 1 on the Hard Rock and Christian/Gospel-Mainstream, No. 3 on Alternative and No. 14 on the Billboard Top 200 as sales continue double-digit percentage growth over the band's previous best-selling album, Welcome to the Masquerade.
The two remixes commemorating the success and in appreciation of its fans include Aaron Sprinkle's take on the Active Rock hit single "Let The Sparks Fly" and Solomon Olds' (Family Force 5) take on the adrenaline-infused "Light Up The Sky." The album tracks of one or both of these songs have been featured on ESPN NASCAR and NCAA Sports programming, L.A. Kings' (NHL) playoff reel (http://ht.ly/aFciK) and EA Sports NHL 2013 video game, while "Light Up The Sky" is the NFL Tennessee Titans 2012-13 "kickoff" song. Now the remix of each song is available to download for free from http://noisetrade.com/thousandfootkrutch.
"We don't look at the people who support this band as 'fans,' we look at them as friends and family," says TFK front man Trevor McNevan. "We said we would give them the remixes if we hit Top 20, and they made it happen. I'm stoked to get these tracks out there for everyone to hear."
With literally thousands of fans already downloading the remixes, TFK have also recently released its second Active Rock single from The End Is Where We Begin, "War Of Change," to immediate radio acclaim. Jumping to No. 10 in its first week at SiriusXM Satellite Radio's Octane Big-Uns Countdown (www.siriusxm.com/octane), the song shot straight to Octane's No. 1 position this week while gaining spins across the country on stations like CIMX (Detroit), KXXR (Minneapolis), WBYR (Fort Wayne, IN), WTPT (Greenville, SC), WKRL (Syracuse, NY), KTUX (Shreveport, LA) and more. The song is also the No. 1 most-added Billboard Rock single at Christian radio.
Selected as the WWE "Over The Limit" 2012 Pay Per View theme song earlier this year, over 564,000 have viewed the promotional reel featuring "War Of Change" at www.youtube.com/watch?v=bHRqIQPZes4, with another 2,844,000-plus cumulative views of the song on various YouTube posts, including the official lyric video at www.youtube.com/watch?v=nDz5SzpA3Xw.
McNevan says the song embodies the heart and soul of the new album. "I think it captures that urgency - that there are wars going on all around us and inside us," he says. "There's something beautiful about 'the sound of change,' and I think this song covers those ideals and the essence of battle. Change can be beautiful and painstaking, but rarely is it comfortable."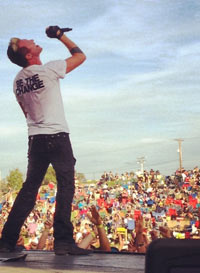 TFK's Trevor McNevan is pictured on stage during Uprise Festival in Shippensburg, PA Sept. 15.
Photo Credit: Cathy Payton.
Taking this message on the road, Canada's favorite modern rockers launched into the summer festival season headlining on main stages across North America, performing to hundreds-of-thousands of music fans. The band most recently wrapped up its tour on the Third Annual Rockstar Energy Drink UPROAR Festival along with Shinedown, Godsmack, Staind, Papa Roach, POD and others that played to nearly 300,000 people in 30-cities.
Receiving over 1,600, 5-star average customer reviews on iTunes® alone for The End Is Where We Begin, THOUSAND FOOT KRUTCH has found that sometimes the best way to move forward is to go back to the basics, taking all of the raw energy and emotion of the past and channeling it into the present. For those who've been following the Ontario-bred players since their formation in 1997, it's been a continuously escalating highlight reel that includes best-selling albums, four top 25 Active Rock hits (including the top 20 smash hits "Fire It Up" and "Move"), plus a slew of soundtrack slots. In fact, the group has literally infiltrated every facet of pop culture, from ongoing ESPN appearances, to various NASCAR, MLB, NHL and NFL airings (including the 2010 Super Bowl), along with the "GI Joe" movie trailer, WGN-TV's "Smallville" and EA Sports' NHL 2010 and 2012 video games.
All the latest tour dates and additional band information can be found at www.thousandfootkrutch.com, http://twitter.com/officialtfk and www.facebook.com/thousandfootkrutch, where the band has over 589,000 fans.
- ### -
For more info on THOUSAND FOOT KRUTCH visit the JFH Artists Database.