ANDREW PETERSON IS SHOWING HOPE
LATEST TOUR INCLUDES SHOW HOPE AS SPONSOR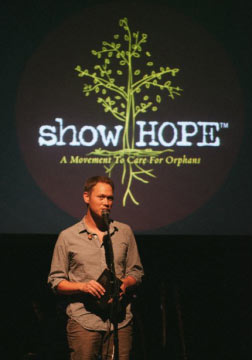 NEWS SOURCE: Merge PR
October 11, 2012
11 October 2012 - Nashville, Tenn - Show Hope™ joins Andrew Peterson on his latest tour to reach audiences with opportunities to care for orphans. With a couple of tours already under their belts thanks to previous concert runs with Steven Curtis Chapman, Show Hope has announced the sponsorship of their latest tour, which also broadens their artist program. To help promote the sponsorship program, singer, songwriter, storyteller and award-winning author Andrew Peterson is proud to be named the newest Show Hope artist.
Peterson is taking the news on the road with his current Light For The Lost Boy Tour and is joined by the indie-rock trio CALEB. Every night during the tour, Peterson and CALEB are sharing about the orphan care ministry of Show Hope, in hopes of raising sponsors to help provide orphans with families and inviting everyone to help forever transform the life of a child.
Andrew Peterson couldn't be more thrilled to partner with Show Hope and is honored to share evening after evening about the ministry's sponsorship program. "One of Show Hope's biggest needs is sponsors and they need people willing to step up and give so that these children can find homes," he shares.
"For me to get to work with Show Hope and to be a small part in building the kingdom in this way, to show these children the love of Jesus, is profoundly moving," Peterson continues. "It's a small price to pay for a blessing that big."
The Light For The Lost Boy Tour is one of many efforts to achieve Show Hope's goal of obtaining 10,000 sponsors by 2013 in honor of their upcoming 10th anniversary.
The 14-city nationwide Light For The Lost Boy Tour is already underway. Remaining tour dates are listed below and can be found at www.andrew-peterson.com/events.
Oct. 13 - Elgin, IL
Oct. 14 - Dyer, IN
Oct. 18 - Lousiville, KY
Oct. 19 - Ballwin, MO
Oct. 24 - Birmingham, AL
Oct. 25 - Birmingham, AL
Nov. 6 - Fuquay-Varina, NC
Nov. 8 - Greenville, NC
ABOUT SHOW HOPE:
A ministry to care for the millions of orphans around the world, Show Hope helps to provide waiting orphans with forever families by giving financial grants to adoptive families. Founded in 2003 by Steven Curtis Chapman and his wife Mary Beth, Show Hope is now an internationally recognized voice for orphan advocacy and has given more than 3,500 financial grants, affecting the lives of children from 50+ different countries, including the U.S. In addition to giving financial grants, Show Hope also empowers families, churches and communities with adoption and orphan care resources and advocacy efforts to change the world for orphans.
Show Hope, expanding its remarkable worldwide impact, also provides for orphans with special needs in China through its three Special Care Centers. One of these centers is Maria's Big House of Hope, a six-story healing home facility located in Luoyang, China. Additional centers have opened in the Henan province of China, operating in two state-run orphanages as an extension of the care being provided at Maria's Big House of Hope. These Special Care Centers provide the highest level of care for orphans who are in desperate need of surgeries and medical attention, thus enabling the children to thrive and increase the orphans' chances of being adopted.
The Chapmans were most recently recognized for their adoption advocacy by The Christian Alliance for Orphans (CAFO) who presented them with the The Defender of the Fatherless Award. The Chapmans received the award this spring before 2,000 advocates of orphan care and adoption at the Christian Alliance for Orphans' Summit VIII, held at Saddleback Church in Lake Forest, California. Each year, the Defender of the Fatherless Award honors bold and sacrificial leadership that has inspired the church and transformed children's lives. Mary Beth and Steven Curtis Chapman were recognized for the immense impact they have had in re-awakening Christians to God's call for orphan care through Show Hope. ShowHope.org.
ABOUT ANDREW PETERSON:
Andrew Peterson is a man of many talents with a successful recording and songwriting career, as well as being an award-winning author and the host of a highly popular online creative community known as the Rabbit Room (RabbitRoom.com). Peterson released his new album, Light for the Lost Boy on August 28, 2012 to rave reviews….hailing the project "as best album of the year so far." His previous project Counting Stars debuted at #1 on iTunes and #6 on Billboard. His single "Dancing in the Minefields" reached the Top 10 on the Christian AC chart, while the video for the song has received well over 1,000,000 views online. Peterson is currently working on his fourth and final book in the Wingfeather Saga series that releases in early 2013. Book two won the 2010 Christy Award for Young Adult Fiction. In September Peterson hosted Hutchmoot, the third annual Rabbit Room conference for lovers of art, songs, and stories-an event that sold out in seven minutes! Peterson appeared on the spring and fall legs of the Steven Curtis Chapman Songs & Stories Tour and in December will embark on his 13th annual Christmas tour, Behold the Lamb of God. For more information on Peterson please visit Andrew-Peterson.com.
ABOUT CALEB:
CALEB is a three-piece independent rock band based out of Franklin, TN founded by brothers Caleb and Will Chapman, and shortly thereafter joined by friend/guitarist Scott Mills. Stylistically, CALEB is singer/songwriter based with musical parts indie and alternative rock. CALEB has toured nationally and internationally in coffee houses, arenas, theaters, and clubs with a variety of different artists. Their EP releases, Caleb, Trouble, and To The Ends Of The World, are available on iTunes. For more information visit calebmusic.com.
###
For more info on Andrew Peterson visit the JFH Artists Database.