MATT & TOBY RELEASES VIDEO FOR "LIFE OF THE PARTY" SELF-TITLED DEBUT ALBUM AVAILABLE NOV. 19TH ON TOOTH & NAIL RECORDS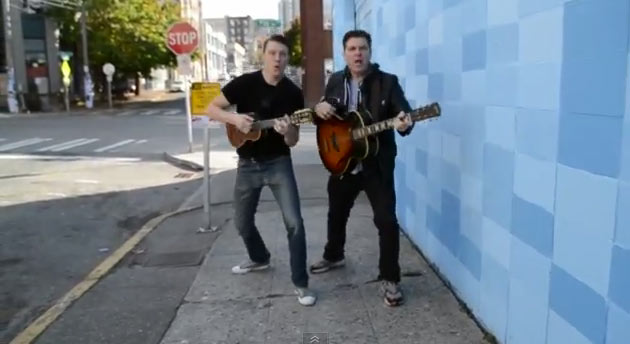 NEWS SOURCE: Trendsetter Media
November 6, 2012
Matt & Toby released a video for "Life Of The Party," which comes off of the duo's upcoming self-titled debut album on Tooth & Nail Records that will be released on Nov. 19th. The video contains humorous antics of Matt & Toby along with footage of their Living Room Tour, in which they have private performances in fans' houses for a select amount of people.
Matt & Toby, better known as the vocalists and lead guitarist of emo band Emery, began what they thought was going to be an acoustic Emery record until things changed. "Matt & Toby just kind of happened," notices Matt nonchalantly. "The big thing with Emery is it has an image, a sound and its own identity. Even though there's a softer side at times, if you spend too much time away from the heavier side, it would make Emery seem less reliable. So rather than alienate some fans with a record that wasn't heavy at all, we wanted to explore the totality of how the softer side would be through Matt & Toby."
To take the conversation even further than a single evening of storytelling and songs, Matt & Toby have set up the brand new blog Un-learning.org. Besides keeping everyone updated on the band's whereabouts, it also provides first person accounts from the road, and perhaps more importantly, spiritually provocative conversations for fans on all sides of the faith fence.
The duo is currently finishing up its Living Room Tour. You can find the details and dates here - http://www.mattandtobyinmylivingroom.com/.
Watch the video: http://www.youtube.com/watch?v=-h8dv4uMOgA
Find Matt & Toby online:
Facebook: http://www.facebook.com/MattAndToby
Twitter: http://twitter.com/mattandtobyband
# # #
For more info on Matt & Toby visit the JFH Artists Database.