SANCTUS REAL RELEASES RUN FEBRUARY 5th
WITH SPARROW RECORDS
First Single "Promises" Gaining Momentum At Radio;

This Weekend Kicked Off Christmas Tour With K-LOVE, 40-City Tour Slated For Spring 2013
NEWS SOURCE: Merge PR
December 2, 2012
2 December 2012 - Nashville, Tenn - Sanctus Real will release their sixth studio album, Run, February 5th on Sparrow Records/EMI Christian Music Group. The project was produced by Chris Stevens (TobyMac), Jason Ingram (Brandon Heath), and Seth Mosley (Newsboys). Run is the follow-up to their 2010 GRAMMY® nominated Pieces of A Real Heart, which featured their career-breaking hit "Lead Me."
Frontman Matt Hammit shares, "We've devoted the better part of our lives writing songs that we pray will matter. Hearing countless stories of how God has used 'Lead Me' to heal brokenness in families has been both humbling and inspiring." Since joining as a band 16 years ago, Sanctus Real continues to illustrate that passion and faith through each album, making no exception for the songs found on Run.
"Making music for the sake of making music never made sense to us," shares lead guitarist Chris Rohman. "Our mission was so clear at the beginning it was almost unspoken. It has been so natural for us to create music that reflects a life lived through faith in God."
With Run, Sanctus Real delivers a new collection of lyrics and melodies shot straight from the hearts of weathered yet determined band members who still love collaborating. With a continued sense of what they want to communicate about life and faith, the months leading up to recording their latest project were trying, including an incident this past summer that left their tour bus burning to the ground on the side of the highway.
For Pete Prevost, Sanctus Real's guitarist/keyboardist, problems along the way are par for the course. "Every album something always comes up," he shares. "Even though the fire was awful, it didn't really surprise us. It's amazing how God has given us this ability to keep going nonetheless."
Rather than glossing over their struggles, Sanctus Real has not been afraid to shine a light on them for others to have hope. Born out of this is their first single "Promises," which reassures the listener to reach to God even when it gets difficult to believe in what you cannot see. Available now to both AC and CHR radio, "Promises" is climbing the charts and is currently top 25 on AC Monitored, No. 19 for AC Indicator, No. 11 at CHR, and is already being heard by more than 2,600,000 people across the U.S. Be sure to check out the brand new music video here.
Another standout track, "Nothing Between," was drawn from recent experience. Written not long after the bus fire, the song's message offers that whatever God tries to teach us, His intent is always to show us where He wants us to be-closer to Him.
Staying close to God is also a theme of the song "Pray," a reminder to make time for prayer. "Prayer is something that a lot of people, including myself, struggle to prioritize." Hammitt says. "Our hope is that this song encourages people to cry out to God about what's going on in their lives and in the world."
Drummer Mark Graalman concludes, "I believe Run is our most cohesive record to date. It really feels like a natural progression front to back that leads the listener on a search for truth."
Sanctus Real kicked off their Acoustic Christmas Tour presented by K-LOVE this past weekend in Oklahoma City and will appear tonight in Denver. Tour dates are listed below, and be sure to visit the tour's site for the latest information at acousticchristmastour.com. This spring, the band is scheduled to hit the road on a 40-city tour.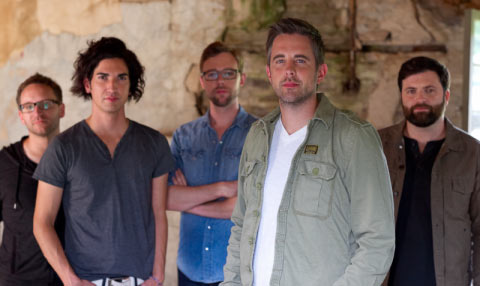 # # #
For more info on Sanctus Real visit the JFH Artists Database.