Ichthus Ministries Closes Its Doors After 42 Years
Ichthus Festival Cancelled for 2013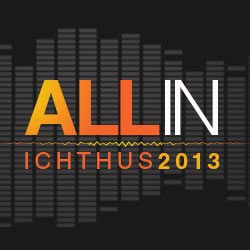 NEWS SOURCE: Ichthus Ministries / JFH
December 10, 2012
Wilmore, Kentucky - The Board of Directors of Ichthus Ministries, Inc. has announced that the organization has ceased operations after 42 years of ministry. Ichthus Ministries is best known for presenting the Wilmore-based Ichthus Music Festival, which was the first and longest-running Christian music festival in the nation. The unanimous decision of the Directors to cease operations was difficult, but was made only after exhausting all other possibilities for continuation of the ministry operations.
Since 2006, the organization has faced significant obstacles to maintaining financial stability due to adverse weather conditions, attendance decline, market changes and mounting debt. As a result, Ichthus made significant cuts in recent years to its staff and expenses and sought donors to offset its declining financial health. Ichthus earnestly searched for a buyer for the Ichthus Farm, 111 acres near Wilmore, where the festival was held each year. The Directors and Executives believed that these austerity measures would placed Ichthus in a profitable position, but the mounting debt and difficulty in finding a credible buyer for the land proved to be obstacles that could not be overcome any longer.
Directors say that they had no choice but to cease operations and dissolve the organization. "It's a very sad day for the Ichthus Board of Directors, Executives, staff and volunteers, as well as the local community and the thousands of people around the country who played an important role in Ichthus," said Mark E. Nichols, attorney for Ichthus Ministries. "This festival has an incredible legacy because of how it influenced, impacted and changed the lives of tens of thousands of youth and adults over the years," Nichols said.
Ichthus has sold nearly 1,000 tickets in anticipation of the 2013 festival, but due to the lack of progress in solving their financial predicament, the ministry was forced to cease ticket sales and signing bands for 2013. Directors say the organization has made arrangements to ensure that all 2013 ticket buyers who request a refund of their deposit will receive one. For more information on refunds of deposits, visit www.ichthusfestival.org/refund.
Finally, Directors are proceeding to sell all assets of Ichthus Ministries. Personal property, including farm equipment and office furnishings, will be auctioned in the next 45 days. Competitive bids for all rights to the Ichthus name, website and intellectual property, will be accepted until 5:00pm on January 7, 2013, an no later. Prospective bids must be sent to Ichthus' attorney, Mark E. Nichols, at mnichols[at]wnsattorneys.com. All proceeds from the sale of these assets will be used to pay Ichthus's creditors.