SHOW HOPE COMMEMORATES A SUCCESSFUL 2012;

Readies For 2013 And Ten-Year Anniversary Celebration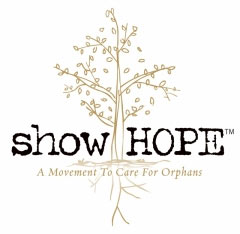 NEWS SOURCE: Merge PR
December 17, 2012
17 Dec. 2012 - Nashville, Tenn - 2012 was quite the year for Show Hope™, a nonprofit founded in 2003 by Steven Curtis Chapman and his wife Mary Beth that helps care for the millions of orphans around the world. From the numerous adoption aid grants given, to consecutive Red Bus Project tours in the spring and fall, to hands-on trips offered to China and Haiti, to a new artists and advocates program, Show Hope celebrates an incredible 2012 and looks ahead to an even bigger 2013.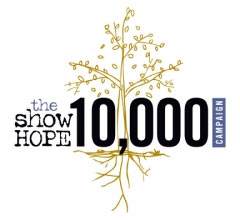 ADOPTION AID GRANTS & 10,000 CAMPAIGN To date, Show Hope has helped to provide more than 3,500 waiting children with forever families through adoption aid grants! 2012 had the highest number of Show Hope grants awarded in a single year. These grants are possible through the generosity of sponsors and donors. Yet, the need is great! Because of the overwhelming amount of applications that come in for adoption assistance, many families who desire to bring a waiting child into their family have to be turned away due to lack of funds available.
Show Hope believes the millions of waiting children around the world should not be left as orphans. To help expand the number of Adoption Aid grants as well as the number of children they can help through their Special Care Centers program, Show Hope announced their 10,000 Campaign earlier this year. Setting a goal to double their impact and obtain 10,000 sponsors in 2013, Show Hope works to address this urgent need and holistically transform the lives of these waiting children. Many loving families desire to welcome a waiting child into their family but simply cannot afford the high cost of adoption. Show Hope's monthly sponsorship helps bridge the gap between the orphan and their forever family by providing Adoption Aid grants. To find out more about the 10,000 Campaign, please visit ShowHope.org/10000.

___________________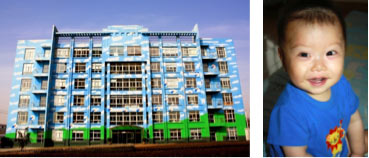 SHOW HOPE SPECIAL CARE CENTERS
This summer was a huge celebration for Show Hope as their flagship Special Care Center, Maria's Big House of Hope in Luoyang, China, commemorated its third anniversary. This summer also marked the admission of their 500th child into this unit, a young boy who was given the name Warren.
In addition, Show Hope announced in 2012 that it is able to extend this high-level of care to more children than even before by adding another single-floor center along with its other two single-floor centers located within existing orphanages in the Henan Province in China. The first two centers are in Zhengzhou and Jiaozuo, and the third, which Show Hope began supporting in 2012, is located in Xinyang. All four centers work together collectively to provide the best possible care for these children.
Through the generosity of Show Hope sponsors and donors, more than 1,000 orphans have received desperately needed medical care. As a result, many are now in forever families of their own. Yet, thousands of children still do not have access to special medical care due to lack of funding. With Show Hope's four Special Care Centers providing critical care for hundreds of orphans with special medical needs, they have been urged to open more special care centers to provide this same quality of care to the children who have no such resource. By doubling the Show Hope sponsorship program to 10,000 sponsors, children who currently have no hope of healing will find that hope possible. To find out more about the 10,000 Campaign, please visit ShowHope.org/10000.

___________________
SHOW HOPE'S ARTIST PROGRAM
Last month Show Hope announced their continuing partnership with Andrew Peterson, a Show Hope artist, as they join forces to further reach audiences with opportunities to care for orphans. This fall, Peterson - a singer, songwriter, storyteller and award-winning author - wrapped up his first official tour as a Show Hope artist, through the 14-city Light For The Lost Boy Tour. On Peterson's nationwide tour, indie-rock trio CALEB joined the stage each night together they shared about the orphan care ministry of Show Hope in hopes of raising sponsors to help provide orphans with families and forever transform the lives of children. Now on his current tour, the Behold The Lamb of God Christmas Tour, Peterson continues to share about Show Hope with his audiences, in hopes to help obtain 10,000 sponsors.

___________________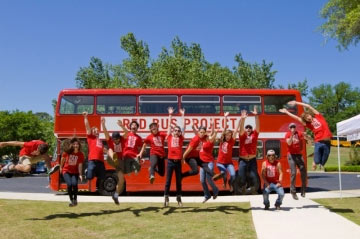 THE RED BUS PROJECT
The year kicked off with Show Hope's hugely successful Red Bus Project, their newest initiative designed to specifically engage college students. Helping to raise awareness and give a voice to the more than 140 million orphans worldwide, the Red Bus Project literally includes a bus - a British double-decker-turned-mobile-thrift-store! The Red Bus Project took two tours in 2012, rolled through 43 campuses, raised over $35,000 in clothing sales, and engaged more than 126,000 college students. Having the ability to engage the next generation of leaders on behalf of the world's waiting orphans brings much hope for the future. Plans are already underway for a tour in 2013.
The Red Bus Project also offers campus groups, events and training seminars designed for students who have a deeper interest and specific burden in helping shed light on the orphan crisis while engaging their peers to actively respond. These are designed to help students discover their own "Red Bus" ideas or creative projects aimed at raising awareness and giving a voice to the world's orphans. To date, an astounding 43 Red Bus Project Campus Groups are already underway on various college campuses around the U.S. For more information, visit RedBusProject.org.

___________________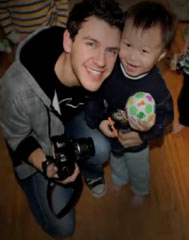 SHORT-TERM TRIPS
Each year, Show Hope provides numerous short-term trip opportunities for sponsors, students, and medical professionals. These trips are designed to open the eyes of others to the critical needs facing orphans. These trips allow each person to see first-hand the care provided to orphans with special needs and how sponsors directly impact their lives.
This year alone Show Hope led a total of ten trips for 150 people! Most short-term trips are based in Luoyang, China at Maria's Big House of Hope, but 2012 was the first year Show Hope took a group to Haiti, serving at the Hands and Feet Project located in Jacmel. More trips will be offered in 2013 to both countries again for students, sponsors and medical teams. Online applications are now available here showhope.org/trips.

___________________
EQUIPPING FAMILIES/ETC: EMPOWERED TO CONNECT CONFERENCES
Show Hope continues to partner with Empowered to Connect to present ETC Conferences featuring Dr. Karyn Purvis of Texas Christian University, who is a leading expert in the field of research-based interventions for at-risk children. To date, Show Hope has hosted six ETC conferences held in Nashville, Denver, and Dallas. Roughly 4,000 people have attended the ETC Conference representing 35 states and Canada.
These two-day conferences allow Dr. Purvis to teach practical strategies for pre/post adoptive and foster parents, ministry leaders, and professionals who are serving families seeking to connect with children from hard places. These conferences are viewed as an invaluable experience for those who seek to provide hope and healing to children.
Three Empowered To Connect conferences have already been confirmed for 2013 in three new locations:
Orlando - February 15-16
Chicago - April 19-20
Houston - Sept. 13-14
To register or for more information about ETC conferences, please visit showhope.org/connect.

___________________
CINDERELLA In April, Show Hope's Spring Celebration once again presented Rodgers & Hammerstein's musical Cinderella: Enchanted Edition. This event hit Nashville to a sell-out audience for the third year in a row. Held at Nashville's famed Schermerhorn Symphony Center, this year's production again featured a star-studded cast and teamed up with the Nashville Symphony for the "one-night-only" concert performance to commemorate the life of Maria Sue Chapman and raise awareness for the world's waiting children.

___________________
ADOPTION TAX CREDIT
This year took Show Hope to the frontlines with other agencies and advocates to help extend The Adoption Tax Credit (ATC), which significantly impacts adopting families in financial need. The ATC, a United States Federal policy, currently stands at $13,000 and will expire this year unless policymakers pass the pending legislation.
Show Hope is one of the 12 leading national adoption organizations that came together to help save the ATC. There are an additional 127 agencies and advocates who are part of this working group, and a bi-partisan group of 18 congressmen and congresswomen have joined in to help.

___________________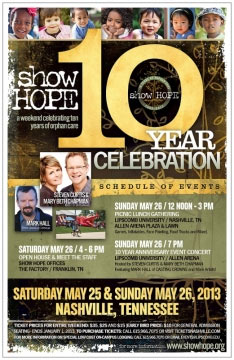 TEN-YEAR ANNIVERSARY IN 2013! Next year Show Hope will celebrate ten years of ministry! To mark this event, Show Hope has announced their 10th Anniversary Celebration for Show Hope to be held over the Memorial Day Weekend. Show Hope is inviting everyone, including sponsors, donors and adoptive or grant families who have been involved the past ten years, to come to Nashville for this national adoption celebration! This event is open to the public. For more information, visit www.showhope.org/10yr.

_________________________________
# # #