VOTA'S BRYAN OLESEN TO BE FEATURED
ON 'FOXNEWS.COM LIVE'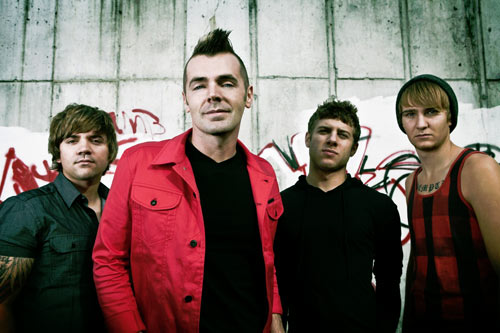 NEWS SOURCE: Turning Point PR
January 31, 2013
NASHVILLE, Tenn.-Bryan Olesen, lead vocalist and founding member of Christian pop/rock band VOTA, will be featured on "FoxNews.com LIVE" Friday, February 1 at 12:15 pm CST. In the interview to be streamed live, Olesen will discuss VOTA's "Love Found Me" Campaign which, in partnership with Tiny Hands International, is seeking to help stop the flow of human trafficking across the border of Nepal into India. Funds from the campaign will go directly to support five border monitoring stations for five years, which could potentially intercept as many as 3000 children.
For a donation of any amount, campaign supporters are able to download VOTA's new release, Love Found Me, along with a second acoustic recording, No Plan B. All proceeds go directly to Tiny Hands International. The "Love Found Me" Campaign features a special video message from Olesen, which can be viewed at www.lovefoundme.org.
Love Found Me marks VOTA's first new studio recording in five years. Produced by GRAMMY® Award-winning Nathan Dantzler (Audio Audrenaline) and Riley Friesen (Family Force 5), Love Found Me features 10 new songs, most written or co-written by Olesen, including the first single and video, "God Of The Universe."
Formerly Casting Pearls, VOTA has consistently been a Christian music fan favorite since its inception in 1997. Comprised of Bryan Olesen (lead vocals, guitar), Stefan Carlson (bass guitar), John Wooten (drums) and Justin Wantz (guitar, keyboard), VOTA's recordings include Casting Pearls (Inpop Records), Live In Wichita (Inpop Records) and VOTA (INO Records). In addition to fronting VOTA, Bryan Olesen is well-known to Christian music fans through his tenure as lead guitarist for the Newsboys from 2003-2006. VOTA also founded the 180 Tour (www.180tour.com), a national high school assembly program designed to encourage students in their character and reach them with the Gospel. The 180 Tour has visited more than 350 high schools in more than 35 states since 2006.
FOX News Channel (FNC) is a 24-hour all-encompassing news service dedicated to delivering breaking news as well as political and business news. A top five cable network, FNC has been the most watched news channel in the country for ten years and according to Public Policy Polling, is the most trusted television news source in the country. Owned by News Corp., FNC is available in more than 90 million homes and dominates the cable news landscape, routinely notching the top ten programs in the genre.
For further information on the "Love Found Me" Campaign, visit www.lovefoundme.org, www.votaband.com, www.tinyhandsinternational.org or text 'VOTA' to 313131.
For more info on Vota visit the JFH Artists Database.