Mark Schultz Admits "I Gave Up" in New Radio Single
Tickets for his second cruise event, the
'All Things Possible Cruise' are on sale now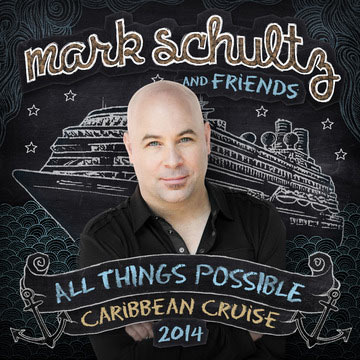 NEWS SOURCE: The M Collective
May 20, 2013
Nashville, Tenn. (May 20, 2013) - Platinum selling artist Mark Schultz is a true testament of All Things Possible. The multi-award winner recently wrapped up his "All Things Possible" Tour, visiting over 20 cities and selling out shows all across the country. The tour's namesake is from Schultz' latest project, which includes his hit No. 1 title track song. Following up the success of "All Things Possible" is the release of his latest single "I Gave Up." The song just recently hit radio and is an honest confession of letting go of the trivial things of this world.
In March 2014, Schultz will embark on his second cruise event, "Mark Schultz & Friends - All Things Possible Cruise." Tickets are selling quickly for the intimate cruise which sets sail on March 30, 2014 to April 6, 2014. The cruise will include special guests including Christian artist Jimmy Needham, acclaimed singer/songwriter Cindy Morgan, leading pastor and speaker Mike Glenn, worship leader Jaime Jamgochian and best selling author Sigmund Brouwer. For more information on the "All Things Possible Cruise" visit the official site here.
About Mark Schultz
Originally hailing from Colby, KS., Mark Schultz moved to Nashville to pursue his musical ambitions and found inspiration while working as a youth pastor. Schultz booked a show at the city's famed Ryman Auditorium and with the overwhelming support of friends and family, the show was a sell-out. This virtually unheard-of feat for a new artist landed Schultz a record deal where he went on to sell over 1.3 million albums and garner 10 No. 1 singles to date. Last year, Schultz released his project All Things Possible, which boasts new stories as the multi-award winning artist celebrates becoming a father, making new friends during his year-long stay in Italy with his wife Kate and kicking-off his "Remember Me Mission" to support orphans. All Things Possible includes his No. 1 hit single and album title track. Throughout his career, Schultz has landed the top spot on Billboard magazine's Christian Adult Contemporary Songwriter list and has been featured on "48 Hours" and "Extreme Makeover: Home Edition." In 2011, Schultz released his first instrumental album, Renaissance and his first novella, titled "Letters From War," based on the his hit song. His 2005 release, Mark Schultz Live: A Night of Stories & Songs, was certified Platinum by the R.I.A.A. and earned Schultz his first GMA Dove Award.
[Get Connected with Mark Schultz]
Website // www.markschultzmusic.com
Twitter // www.twitter.com/mschultzmusic
Facebook // www.facebook.com/markschultz
iTunes // http://bit.ly/TVJivM
###
For more info on Mark Schultz visit the JFH Artists Database.