BEC RECORDINGS AND AIR1 CELEBRATE THE CLUB AWESOME LIVE TOUR
MANAFEST, KJ-52, 7EVENTH TIME DOWN AND SHINE BRIGHT BABY ALONG WITH AIR1'S BRANT HANSEN

NEWS SOURCE: Merge PR
June 4, 2013
SEATTLE, WA – June 04, 2013 –BEC Recordings and AIR1 presented the "Club Awesome Live Tour," which concluded its second leg last month. BEC Recordings' artists' Manafest, KJ-52, 7eventh Time Down and Shine Bright Baby joined AIR1's Brant Hansen. Each night was a dance party with a purpose: to help heal kids in the developing world through CURE International. The free shows traveled from Texas to Oklahoma to Arizona to California to Washington during the tour. With nine shows, there were more than 10,000 in total attendance.
CURE International heals the sick and proclaims the kingdom of God. It is the largest provider of reconstructive surgery to disabled children in the emerging world. This tour joined together to help heal kids with curable physical disabilities. With the money raised during these shows, more than 38 surgeries will be funded for kids from four different countries: Kenya, Zambia, Ethiopia and Malawi.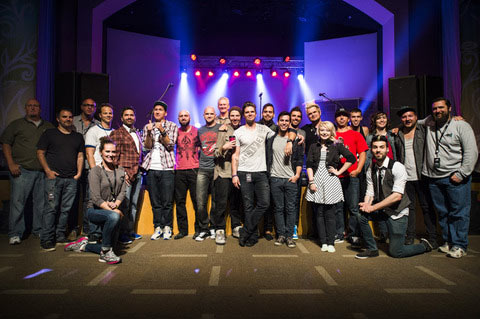 Club Awesome Artists & Crew Celebrate Lives Changed
About CURE International:
Since opening the doors of its first surgical teaching hospital in Kijabe, Kenya in 1998, CURE's focus on bringing healing to developing nations has resulted in more than 1.9 million patient visits and over 138,000 surgeries to correct physically disabling conditions. CURE has also trained more than 6100 medical professionals raising the standard of care in the countries where it operates. For more information on CURE and it's partnership with Air1, go to www.cure.org/air1.
About AIR1:
Air1 is a non-profit, listener-supported Christian CHR radio network listened to by nearly 4 million people each week in cities including Los Angeles, Dallas, Houston, Seattle-Tacoma, Phoenix, Portland, Riverside, and Sacramento.
About Manafest:
Over the past 11 years, Chris Greenwood has used the moniker Manafest to organically build his fan base playing hundreds of shows on three continents. In 2006, Manafest released Glory from which the rock anthem "Impossible." In 2008, Manafest followed up with Citizens Activ, which catapulted success garnering multiple TV placements and his overall presence in the US and internationally. In 2010, Manafest released his most critically acclaimed project, The Chase, which he received a JUNO Award nomination as well as won the 2010 GMA Canada Award. Since the release of his fifth studio album, Fighter, Manafest has been around the world touring nonstop. This album debuted in the Top 20 on the iTunes® Rock album chart at No. 16 and was the highest career debut for Manafest landing at No. 7 on the Billboard Heatseekers chart. Fighter earned Manafest his 9th GMA Covenant Award for "Recorded Song of the Year" as well as a JUNO Award nomination.
About KJ-52:
Releasing his debut project in 2000, KJ-52 continued to do his "thing" five records later for a total of seven projects released. KJ-52 has become one of the most trusted names in music as a songwriter, producer, minister, and comic poet. Most recently, KJ-52 released his seventh studio album, Dangerous, which debuted in the Top 10 on the iTunes® Christian & Gospel Album chart. Dangerous comes after 12 years in the music industry and more than 575,000 albums sold for this hip-hop veteran. KJ-52 is a six-time Dove Award winner.
About 7eventh Time Down:
Kentucky-based rockers 7eventh Time Down released their BEC Recordings' debut Alive In You in 2011. This debut was recorded in Atlanta with producer Scotty Wilbanks (DecembeRadio, Unhindered, Echoing Angels) at the Rockporium. Alive In You is an example of music meets message in a sea of unforgettable songs. The Kentucky-based foursome has already garnered an enthusiastic army of fans who've seen them share the stage with Skillet, Fireflight, Family Force 5, Group 1 Crew, Jars of Clay, Pillar and Kutless. They will release their sophomore album in September 2013. 7eventh Time Down is composed of Mikey Howard (vocals), Ciff Williams (bass), Eric Van Zant (guitar) and Austin Miller (drums).
Shine Bright Baby:
The national debut disc from the worshipful electronic rockers, titled Dreamers, is set to release July 23. The foursome comprising Shine Bright Baby – Emily Irene on vocals, guitarist Nathan Fertig, Joshua Fink on keys, guitars and vocals, and Karl Wendel on drums – each hail from Orrville, Ohio. Their unique band name comes from Philippians 2, which, shares Joshua, "Talks about shining brightly for the Lord, but we wanted to take what that verse said and apply it to the band's mission and what we stood for. Emily wanted it to be more fun and playful, so she tacked 'Baby' on the end and it just stuck." The first radio single from Dreamers is the redemptive tune "Beautiful Love."
###
For more info on Manafest visit the JFH Artists Database.
For more info on KJ-52 visit the JFH Artists Database.
For more info on 7eventh Time Down visit the JFH Artists Database.
For more info on Shine Bright Baby visit the JFH Artists Database.