NY TIMES BESTSELLING AUTHOR AND PASTOR OF ONE OF AMERICA'S FASTEST GROWING CHURCHES UNLOCKS THE TRUTHS BEHIND BEING A SURVIVOR TO BECOMING A DREAMER IN NEW BOOK, GOD'S DREAM FOR YOU
Matthew Barnett Releases Third Book With
Thomas Nelson, Inc. on September 10, 2013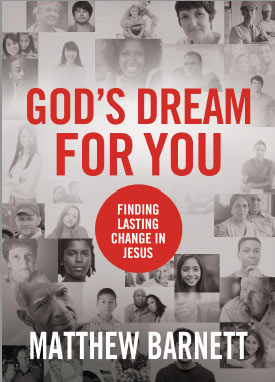 NEWS SOURCE: Rogers & Cowan
June 6, 2013
Los Angeles, Calif. (June 6, 2013) - Matthew Barnett, NY Times bestselling author and founder/pastor of the Dream Center in Los Angeles announces his third book to date with God's Dream for You: Finding Lasting Change in Jesus. Releasing nationwide on September 10, 2013 through Thomas Nelson, Inc., Barnett's latest project follows bestselling titles, The Church That Never Sleeps and The Cause Within You (www.matthewbarnett.com).
God's Dream For You is a revolutionary book that gives readers step by step instructions on how to go from being a survivor to a dreamer while creating lasting change in their lives. In addition to the uplifting message of hope that this book delivers, God's Dream For You also encourages readers to take a retrospective look inside their own life and discover the dream that awaits their destiny.
Filled with stories of profound testimony, this book aims to encourage people who may be facing difficult life situations and gives them the necessary mindset it takes to successfully overcome life's obstacles. God's Dream For You captivates readers by providing real, honest accounts of what it means to serve others and how that translates into God's blessings for your life. Barnett claims that by giving to others and by serving those around us, we then are a vessel for God to reveal His ultimate dream for our lives.
"God's Dream For You was really inspired by my own life experience and everything I have seen since starting the Dream Center in 1994", says Barnett. "I have really learned what it looks like to serve others and see how God will bless your life and fulfill your dreams as a result of being obedient to Him. I hope people will walk away with the tools to do the same through reading this book!"
With more than 273 ministries and outreaches across the country, the Dream Center helps thousands of inner-city residents with their spiritual and tangible needs. The Dream Center, founded in 1993 by Barnett, provides Biblical training, job training, shelter, and food, among other things. There are now more than 130 Dream Center locations throughout the country, including Los Angeles, New York City, Dallas, Phoenix, and St. Louis.
"Readers from all backgrounds can identify with how difficult it is to change," says Barnett. "But not everyone understands the special struggles for those trying to break free from addiction, abuse, and habitually bad choices. These people know that willpower alone won't work."
In God's Dream For You, Barnett shares true stories and testimonies of people whose lives hit rock bottom. But through the guidance and direction at the Dream Center in Los Angeles, where they learned about the power and love of Jesus, these brave souls broke free from their bondage and now live brand-new lives.
"I want to provide inspiration for those who, whatever their situation, want to discover God's dream for their life," says Barnett.
God's Dream For You
By: Matthew Barnett
Thomas Nelson, Inc.
Hardcover
Firm On-Sale Date: September 10, 2013
ISBN-978-1-1400-3208-6
Price: $14.99 US
About Matthew Barnett
Matthew Barnett is cofounder (with his father, Pastor Tommy Barnett) of the Los Angeles Dream Center and senior pastor of the historic Angelus Temple. The Dream Center's ministries reach more than 50,000 people each week through its multiple church services in addition to its 200 need-centered ministries. Mathew is the author of The Church That Never Sleeps and has been seen across the world through the church's broadcast on TBN. He and his wife, Caroline, have two children, Mia Aimee and Caden West. They reside in Los Angeles. Visit www.matthewbarnett.com
About Thomas Nelson, Inc.
Thomas Nelson, Inc., part of HarperCollins Christian Publishing, is a world leading provider of Christian content and has been providing readers with quality inspirational product for more than 200 years. The publishing group provides multiple formats of award-winning Bibles, books, gift books, cookbooks, curriculum and digital content, with distribution of its products in more than 100 countries. Thomas Nelson, Inc. is headquartered in Nashville, TN with additional offices in Plano, TX. For additional information, please visit www.thomasnelsoncorporate.com.