BEST-SELLING NEW SPIRIT-FILLED LIFE BIBLE IN NEW LIVING TRANSLATION NOW AVAILABLE
Over Two Million Copies Sold To Date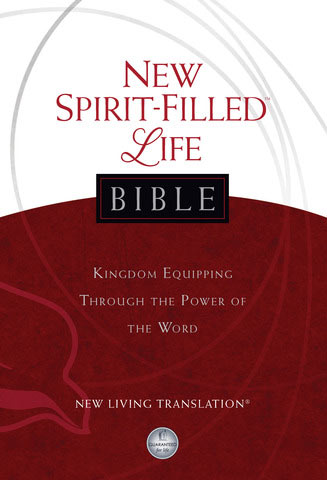 NEWS SOURCE: Merge PR
July 1, 2013
NASHVILLE, TN (1 July 2013) - The best-selling New Spirit-Filled Life Bible has already captured the attention of two million readers around the world and can now be purchased in the easy-to-understand New Living Translation. This latest edition of the New Spirit-Filled Life Bible, is published by Thomas Nelson and available now.
Presented in a crisp, new modern packaging, the NLT New Spirit-Filled Life Bible features the popular verse-by-verse study notes written by Editor Dr. Jack Hayford, founding pastor of The Church on the Way, and a team of anointed leaders. A great resource for gaining a deeper understanding of God's Word, Hayford and his team are thrilled to have these notes now available in the New Living Translation.
"There is a 'breathing' that comes through the New Living Translation which will assist readers in opening them to the essence of the Holy Spirit, actively transmitting the truth and wisdom of God's Word," shares Dr. Hayford. "With His 'breath' comes understanding that will always relay the life and graces He originally 'breathed' (II Tim. 3:16). Such reading with understanding and receptivity will always help us see Jesus Himself in the Word.?I welcome the NLT as a fresh, timely assist to our experiencing Christ revealed in our hearts and minds; increasingly making us "more and more like Him"--transforming of our daily worship and practical living as promised (II Cor. 3:18)."
Compiled for Christians who want a fuller, more in-depth understanding of the Scriptures, the New Spirit-Filled Life Bible follows Dr. Hayford's balanced biblical teaching and preaching ministry that will encourage daily Bible reading and study. The New Spirit-Filled Life Bible equips Christians through the power of the Word with content such as Kingdom Dynamics, Truth-In-Action charts, annotations that give clear verse-by-verse explanation to thousands of scriptures, Word Wealth, and maps, plus introductions and outlines for every book of the Bible.
"Two decades! That's how long the Spirit-Filled Life Bible brand has been serving Christians with best-selling Bibles," said Robert Sanford, Vice President & Associate Publisher at Thomas Nelson. "We're so pleased, now, to have partnered with our friends at Tyndale House Publishers to bring the New Spirit-Filled Life Bible in the popular New Living Translation."
The New Spirit-Filled Bible is also available in the NKJV translation, which was recently updated with a fresh, new packaging that complements the look of the NLT.
For more information on the New Spirit-Filled Life Bibles, please visit NelsonBibles.com.
Dr. Jack Hayford is Chancellor of The King's University, Dallas ~ Los Angeles, which he founded in 1997. From 2004 to 2009, he also served as President of the International Church of the Foursquare Gospel. He is probably best known, however, as "Pastor Jack," founding pastor of The Church on the Way in Van Nuys, California, where he served as senior pastor for more than three decades. Pastor Hayford has penned more than 52 books and composed 600 hymns and choruses.
About Thomas Nelson
Thomas Nelson, Inc., part of HarperCollins Christian Publishing, is a world-leading provider of Christian content and has been providing readers with quality inspirational product for more than 200 years. The publishing group provides multiple formats of award-winning Bibles, books, gift books, cookbooks, curriculum and digital content, with distribution of its products in more than 100 countries. Thomas Nelson, is headquartered in Nashville, TN with additional offices in Plano, TX. For additional information, please visit www.thomasnelson.com.
###
New Spirit-Filled Life Bible, New Living Translation
Kingdom Equipping Through the Power of the Word
General Editor, Jack Hayford
Available on June 11, 2013 from Thomas Nelson, Inc.
BIBLES / NEW LIVING TRANSLATION / STUDY
Hardcover ISBN: 9781401674991 / $44.99
eBook: 9781401678722 / $44.99