Worship Leader and CCM artist Matt Gilman to release first solo album Awaken Love nationwide August 27, 2013
First single from project "Fairer" goes for radio adds at Soft AC late July with Gilman embarking on 45-city Reset Movement Tour in Fall 2013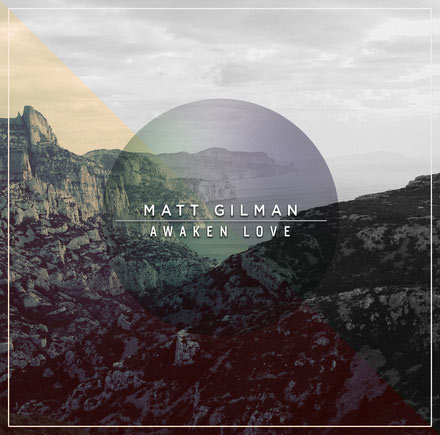 NEWS SOURCE: Bozeman Media
July 10, 2013
Kansas City, MO (July 10, 2013) ---- Forerunner Music announced today the release of the first solo album from International House of Prayer worship leader and CCM artist Matt Gilman. Awaken Love will be available at all retail and digital music outlets on August 27, 2013, and the first single, "Fairer," will go for adds at Soft AC radio late July. The project features eleven modern worship songs that were written or co-written by Gilman. Dove award-winning producer Ed Cash was at the production helm for the new album, which will be distributed by New Day Distribution with radio promotions being handled by James Riley at Shamrock Promotions.
"I want the music and the lyrics on this album to fascinate the listener with the beauty of God, His majesty and His humility," explains Gilman. "As we engage with the heart of God in worship, we, as believers in Jesus, should feel confidence and boldness to approach His throne because of His unending mercy. At the same time, we should have a trembling heart before this holy One who dwells in unapproachable light. At the end of the day, I want the Word of God written on hearts, and for people to love Jesus more after hearing these songs." Awaken Love showcases the strong vocal and acclaimed songwriting talents of Gilman, whose song "Holy" was recorded by Kari Jobe and Kim Walker of Jesus Culture. The new project features Gilman songs that have been sung by tens of thousands through the International House of Prayer ministry over the past several years. The album launches with "As the Deer," a powerful, mid-tempo song that spotlights the walk of the faithful as they reach and yearn for God; "Eyes of Mercy" showcases the wonderful grace of God and how He sees the good in His followers; the title track is a powerful ballad, a love song to God in gratitude for His eternal love; the new single, "Fairer," was co-written by Gilman and Cash and displays the majesty of our Lord. From the heights to the seas/You stand alone in majesty/From the crown of thorns to Your heavenly throne/You are God and God alone.
In support of Awaken Love, Gilman will embark on a 45-city Reset Movement Tour sponsored by Nick Hall's Pulse Movement. This year's tour launches September 18 in Phoenix, AZ, and will also feature Rend Collective Experiment, Lacey Sturm (former lead singer of Flyleaf), Hip-Hop artist Propaganda and DJ Efechto. The tour will visit 200 cities in three years and is expected to impact over 2.5 million people. The goal of the tour is to rally a generation around Jesus and call for a supernatural reset in our lives, culture and nation.
About Matt Gilman
Hailing from Minneapolis, MN, Matt Gilman began leading worship at fourteen-years-old at a local Lutheran church where his father was a pastor, and where music became a source of inspiration to him personally and spiritually. This led to Gilman attending a worship conference at the International House of Prayer of Kansas City (IHOPKC) when he was a senior in high school. The visit opened up a whole new understanding of worship and the Word of God, so he returned to IHOPKC in January 2004 to join the six-month One Thing Internship. That internship resulted in Gilman becoming a worship leader at IHOPKC and creating his first album, Holy, which was a joint project with Cory Asbury, another worship leader at IHOPKC. Gilman and his wife, Alexia, and their twin sons, Isaac and Caden, are moving from Kansas City, MO, to Orlando, FL, to join the Orlando House of Prayer. For more information on Gilman, please visit www.mattgilman.com, www.facebook.com/pages/MattGilman and on Twitter @gilmanmatt.
About Forerunner Music
Forerunner Music is the official record label of the International House of Prayer of Kansas City, an evangelical missions organization centered on 24/7 worship and prayer. Having released more than 80 albums since its inception in 2001, the label has produced records for artists such as Misty Edwards, Cory Asbury, and Matt Gilman. Forerunner Music albums have reached as high as No. 9 on the Billboard charts and No. 1 on iTunes' Christian & Gospel charts. Visit www.forerunnermusic.com for more information.
About the International House of Prayer of Kansas City
The International House of Prayer of Kansas City (IHOPKC) is a 24/7 prayer ministry that has held worship-led prayer meetings non-stop for 14 years. Since 1999, bands of 10 or more singers and musicians have led an unending cycle of two-hour prayer-and-worship sets-all day and night-in the ministry's Global Prayer Room. The ministry streams this continual worship and prayer live on its website and sees an average of 11,000 viewers a day from around the world. IHOPKC includes a university, IHOPU, with ministry, music, media and missions schools. The organization is committed to justice and compassion outreaches involving adoption, human trafficking and inner city programs. IHOPKC's vision is to work in relationship with the wider Body of Christ to serve the Great Commission, seeking to walk out the two great commandments to love God and people. The International House of Prayer is an evangelical missions organization that has a growing community of about 4,000. Visit www.ihopkc.org for more information.
# # #