Jonathan Thulin's Live Performance From Air 1's Studios Now Available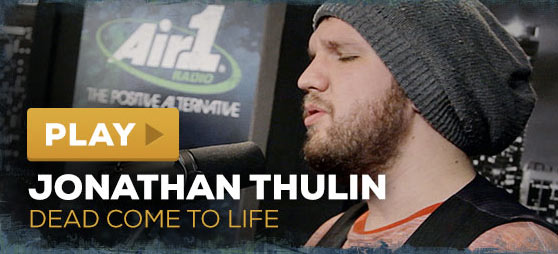 NEWS SOURCE: DREAM Records
July 30, 2013
Los Angeles, CA (July 2013) -- Jonathan Thulin has been a very busy person. After finishing a tour in Sweden w/ Charmaine on the Love/War Tour, it was just announced that he will be performing on the JCTV Tour this fall with PRESS PLAY, Manic Drive, Silverline and Speaker, Sean Park (for tickets: JCTVTour.com) sponsored by JCTV, NewReleaseTuesday.com, WorldVision and Not Of This World Clothing. On top of it at all, his single, "Dead Come To Life" (Feat. Charmaine) is now the #3 song on Hot AC / CHR, and is the most voted by the fans 4 weeks in a row on their top 10 weekend. This week, his live performance, he shot back in March at Air1's studios, is now featured this week on the front of Air1.com. For those wanting to hear a very stripped down version of the song that showcases Jonathan's true vocal ability
check it out here
.
Don't forget, there's a great cover song contest where Jonathan asks you to cover "Dead Come To Life". Check out all the details for that at DreamRecords.org/Contest. Pick up Jonathan Thulin's album, The White Room today: iTunes- http://bit.ly/OWAVTl and Amazon - http://amzn.to/TR1ypX
ABOUT JONATHAN THULIN
Originally from Sweden, Jonathan Thulin is an artist/songwriter based out of Minneapolis, MN. With the debut of his hit song, "Dead Come To Life" (Feat. Charmaine) and a highly successful album, The White Room, Jonathan is poised for success. Since the age of 11, Jonathan has travelled to more than 500 churches in close to 40 states. Now, an artist signed to DREAM Records, Jonathan hopes to bring his love for Christ to more and more that need to hear it. "Music was always my passion, is my passion and will always be my passion".
ABOUT DREAM RECORDS
DREAM was founded in 2008 to provide artists with a genuine approach to how real artist development should be done. By allowing for a partnership as a business model, Dream's artists empower themselves to develop and carry out a real vision for their lives as they affect other people's lives with their music and message. Incorporating social media, press, radio and touring it's allowing it's artists grow together as a family.
###