Forerunner Music's Latest Project Onething Live: You Satisfy My Soul Debuts Top Ten on Soundscan's Praise and Worship Chart
Album recorded at Onething Young Adult Conference and features Worship Leaders from the International House of Prayer of Kansas City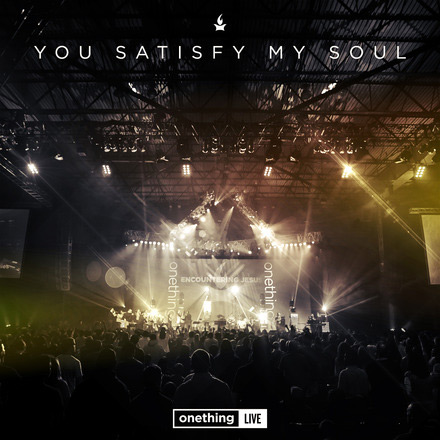 NEWS SOURCE: Bozeman Media
August 23, 2013
Kansas City, MO (August 23, 2013) — Forerunner Music's latest project,
Onething Live: You Satisfy My Soul
, debuted this week in the Top Ten on Soundscan's Praise and Worship chart. The album released August 13 and was recorded at the International House of Prayer annual Onething young adult conference in Kansas City, MO and features nine of its worship leaders. The album is available on iTunes and other digital service providers and is being distributed to physical and online retail outlets via New Day Christian Distributors.
One of many conferences the International House of Prayer in Kansas City (IHOPKC) hosts annually, Onething is its premier event and it draws around 25,000 young people from all over the world. Onething Live: You Satisfy My Soul was recorded at last year's conference in December and highlights some of the most memorable worship songs. Worship leader Matt Gilman, featured on the record, shares, "I Iove the focused nature of this album and that it represents so well why we do what we do here at the house of prayer, because Jesus is worthy of unceasing adoration."
Although the 10-song project reflects the musical leanings of multiple worship leaders, its theme is decidedly singular; the revelation of the excellence of Jesus is the sustaining power of our hearts. He is the One who satisfies our souls.
Ryan Kondo's opening track, "Like a Lion," is a joyful declaration that our hope is in Jesus, the Lion of the tribe of Judah, who dwells within each believer, and a prayer that He would send the fire of revival. Matt Gilman's "Awaken Love," a live rendition of the title track from his upcoming solo album with Forerunner Music, is a moving cry for a heart of love to burn within each one of us, that we would love Jesus like He loves us. "We Love Your Name," and "My Comfort," both feature a powerful choral ensemble, The Cry, that adds intensity and passion to the stirring lyrics.
Other stand-out tracks include; "Always Forever" performed by Misty Edwards, IHOPKC's most well-known worship leader, and Laura Hackett's "You Satisfy My Soul," reminding us of the truth that God is the radiant One who transforms our darkest night with the bright light of His glory.
To find out more about Onething Live: You Satisfy My Soul, including additional information about the participating artists and to sample music from the project, visit ihopkc.org/onethinglive.
About Forerunner Music
Forerunner Music is the official record label of the International House of Prayer of Kansas City, Mo., an evangelical missions organization centered on 24/7 worship and prayer. Having released more than 80 albums since its inception in 2001, the label has produced records for artists such as Misty Edwards, Cory Asbury, and Matt Gilman. Forerunner Music albums have reached as high as No. 9 on the Billboard charts and No.1 on iTunes' Christian & Gospel charts. Visit forerunnermusic.com for more information.
About the International House of Prayer of Kansas City
The International House of Prayer of Kansas City (IHOPKC) is a 24/7 prayer ministry that has held worship-led prayer meetings non-stop for fourteen years. Since 1999, bands of 10 or more singers and musicians have led an unending cycle of two-hour prayer-and-worship sets—all day and night—in the ministry's Global Prayer Room. The ministry streams this continual worship and prayer live on its website 24/7 and sees an average of 11,000 viewers a day from around the world. IHOPKC includes a university, IHOPU, with full-time schools of ministry, music, media, and missions. The organization is committed to justice and compassion outreaches involving adoption, human trafficking, and inner-city programs. IHOPKC's vision is to work in relationship with the wider Body of Christ to serve the Great Commission, seeking to walk out the two great commandments to love God and people. The International House of Prayer is an evangelical missions organization that has a growing community of about 4,000. Visit ihopkc.org for more information.
####
Artists and track listings
1. Misty Edwards "Always Forever"
2. Laura Hackett "You Satisfy My Soul"
3. Ryan Kondo "Like a Lion"
4. Jaye Thomas "We Love Your Name"
5. Davy Flowers "My Comfort"
6. Tim Reimherr "Every other God"
7. Matt Gilman "Awaken Love"
8. Luke Wood "Man from Nazareth"
9. Anna Blanc "You are The Lord"
10. Tim Reimherr "Keep Me Close"