OBB GARNERS KEY DOVE AWARD NOMINATION AND
HITS THE ROAD TO 'COME ON HOME'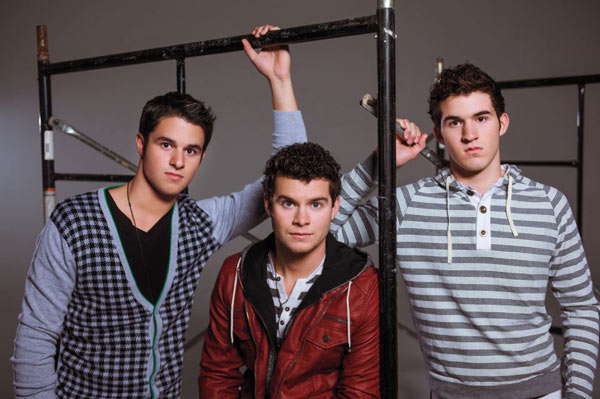 NEWS SOURCE: Turning Point PR
August 26, 2013
NASHVILLE, Tenn.-Celebrating a recently-announced Dove Award nomination for Pop/Contemporary Album of the Year for their eponymous debut, breakout Curb pop/rock sibling trio OBB continues to cross the country this summer visiting radio stations and surprising fans with special "pop-up" shows.
A rare honor for a new artist, OBB's debut is among releases from such top names as TobyMac, Chris Tomlin, for King & Country and Plumb in the prestigious Pop/Contemporary Album of the Year category. The 44th Annual GMA Dove Awards will be presented October 15 in Nashville.
"OBB proves the rule books for establishing a new artist are being rewritten from the ground up," said John Butler, vice president of promotion, Curb Records. "From their Dove nomination, to Winter Jam, to organizing social media-driven pop-up concerts with radio, they are a force in a brave new world that is hungry for God's message and finding it where they are."
Introducing "Come On Home" to Christian radio in Chicago; Atlanta; Seattle; Sacramento, California; Colorado Springs, Colorado; and Tampa, Florida, among other cities to date, OBB has also performed a number of surprise acoustic shows for fans along the way. Announced via social media just prior to each performance, the band's secret pop-up concerts have drawn crowds in hotel lobbies, malls and other unexpected venues.
"Before I attended the private social media showcase with OBB here in Charlotte, I had no idea what to expect," said Joe Paulo, director of broadcasting, New Life 91.9 WRCM and 89.7 WMHK. "What astounded me was seeing the number of passionate fans that drove from all over to attend this 30-minute set in a cramped hotel lobby and, perhaps most importantly, how well they knew OBB's music."
Earlier this year OBB played to capacity audiences totaling more than half a million people during the Winter Jam 2013 Tour Spectacular-the #1 tour in the world for the first quarter. Among other events this summer, the band has appeared at Alive Festival, Big Ticket Festival, WFRN Friendfest, and Student Life Daytona with Louie Giglio and Chris Tomlin. Next month, OBB is slated to perform at Universal Studios' Rock The Universe, playing the "FanZone" on Friday, September 6 and Saturday, September 7. This year's Rock The Universe will feature such headliners as Switchfoot, Chris Tomlin, Casting Crowns and Lecrae.
"Come On Home," penned by OBB and Justin Ebach, encourages all who are lost, searching and desperate to "come on home" to Christ. The song is featured on OBB's critically-acclaimed self-titled debut EP, which landed on Billboard's HeatSeekers chart following its January release.
Comprised of 22-year-old Zach Oswald (lead vocals, guitar), 20-year-old Jacob Oswald (lead guitar) and 18-year-old Nich Oswald (drums), the Atlanta-based brothers gained national notoriety in 2009 as finalists on the CBS Early Show's "Singing Family Face-Off." The siblings serve on the worship team at Atlanta's Passion City Church.
For further information visit www.obbmusic.com or www.curb.com. Follow OBB on Twitter @OBB_Music.
- ### -
For more info on OBB visit the JFH Artists Database.