Rock Of Ages Festival Sets Out To Raise $40,000 To Make Festival Free To All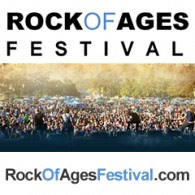 NEWS SOURCE: Rock of Ages / JFH
September 6, 2013
In a bold move to keep the Rock of Ages Festival free of charge to all, the folks at Rock of Ages Festival Ministries have launched a
crowd funding campaign
to raise a staggering $40,000 before its gates open. The Rock of Ages Festival will take place on Saturday, October 5th - 12:00- 8:00 p.m. Gates open at 11:00 at the Napa County Fairgrounds in Calistoga, CA.
Artists expected to perform include: Kutless, Stomp Town Revival, The Vespers, Avion Blackman, Asante African Childrens Choir, Levi the Poet, Maximillion and more.
According to the latest post from the festival, "We have an incredible offer of a matching grant for keeping Rock of Ages Festival free this year. If we reach the $5,000 mark by Sept 13, they will match it! That means we will be $10,000 closer to our needed goal to KEEP ROCK FREE! Please pray and give. Rock of Ages Festival is turning 14 years old and with your help it's gonna be FREE!"
More info:

"Rock of Ages Festival is striving to "Reach Your World" and making it free is the best way to do that. Over the years, God has ministered to nearly 100,000 people at the Festival - that's world changing! With a rich history and deep roots in NorCal, the festival's popularity has grown to draw attendees from all regions of the Bay Area to places as far south as Los Angeles and north to Seattle. At the Festival, we have offered peace through the soul-saving message of Jesus Christ, rescued marriages and built families through Bible-based workshops, encouraged the discouraged with hope through up-lifting music and speakers and, through ministry vendors, expanded worldviews to see God at work beyond the everyday.

This year our goal is to reach more people than ever! How do we reach your world?

* Make it free; absolutely no cost admission, including parking!
* Challenge churches and individuals to go beyond inviting others to bringing them to the festival.
* Continue to provide a variety of great bands, athletes and speakers using multiples venues, like the main stage, the Edge (youth stage), X-treme Sports show, Latino and Children's stage.

Visit our website, rockofagesfestival.com, for more information.

Reach your world -- Donate to make the festival free!

Historically, to cover expenses we have received funds from sponsors, vendors and individuals as well as ticket sales. But this year, without ticket sales we need more help than ever to make Rock of Ages free; we need a financial blessing from you through this Crowdrise campaign.

With your help we can REACH YOUR WORLD and ensure a free Rock of Ages Festival! So, make a donation, "share" this Crowdrise fundraiser and invite your friends/family that need to know Christ to Rock of Ages on Saturday, October 5th at the Napa County Fairgrounds in Calistoga, California.
# # #