KEITH ELGIN RELEASES "OUR HOPE" LIVE CD/DVD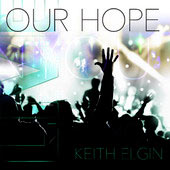 NEWS SOURCE: Keith Elgin
October 28, 2013
Washington, D.C. (October 28, 2013) - On the heels of this year's successful radio release of his song "Made for More," Keith Elgin, contemporary Christian singer/songwriter, unveiled his most recent project, the Our Hope [Live] CD/DVD, on October 8th to positive reviews, including:
"… the greatest complement (sic) one can say about a worship record is that the presence of God exudes powerfully, such is the case with Keith Elgin's "Our Hope (Live)" (BREATHEcast/Christian Post).
"[Made for More] is one of the strongest moments on the record, with great production, complementary backing instruments and CCM radio-friendly melodies. Lyrically, the excellent songwriting talks about the brokenness around us, which illustrates our need to share the love of Jesus" (New Release Tuesday).
"Keith Elgin's Our Hope CD/DVD is an album to buy, if you're a fan of worship music similar to Chris Tomlin, Matt Redman, and Kristian Stanfill" (Christian Music Zine).
The Our Hope [Live] CD/DVD features 13 tracks recorded at a sold-out performance earlier this year, and includes songs from his previous album Keith Elgin EP, as well as several well-known worship standards.
"We wanted to create some different arrangements of popular worship songs, in addition to some songs I've written, to create something that wasn't exactly a worship record and wasn't exactly a rock record. I think we captured that. We also went against the grain a little bit in terms of the mix. Instead of creating a live record in the studio, we wanted it to be more organic. I was willing to sacrifice some of the perfection for authenticity." Keith wrote the title track, "Our Hope is in You," with Jason Hoard of Black Cat Studios, who also produced Our Hope [Live] and played lead guitar; Mac Powell, legendary lead singer of Third Day; and Brandon Coker, drummer for Aaron Shust.
For Keith and his wife, their hope in Christ in the midst of uncertainty after Emily's diagnosis of multiple sclerosis has not only carried them through the greatest challenge of their lives, but also strongly impacted the vision behind Our Hope [Live]. "My song 'Our Hope is in You' is a proclamation of who God is and how He is our foundation in the troubles of the world," says Keith. "The Our Hope [Live] project also comes out of this theme and my current season of ministry and life. If my wife and I didn't have complete faith in Jesus, this journey we're in would surely break us." Our Hope [Live] is available on iTunes and Keith's web site.
For more information, visit www.keithelgin.com and https://www.facebook.com/keithelginband.