Colony House (formerly Caleb) Release New EP and Video
"Keep On Keeping On" Lyric Video Premieres on MetroLyrics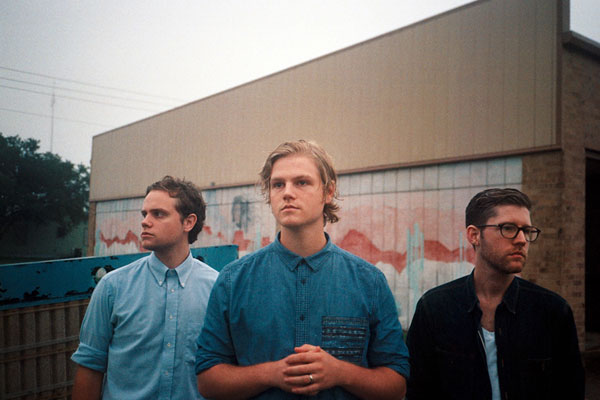 NEWS SOURCE: Missing Piece Media
December 10, 2013
Colony House, formerly called Caleb, have re-invented themselves with a new name, new approach, and now a brand new EP featuring three tracks of fresh material to announce themselves. A trio of brothers (two of blood, one of heart) from Franklin, TN, Colony House get their name from a humble apartment complex in downtown Franklin that has at some point in each of their lives been called home by all three members. Available now, the new EP is just a small taste of what's to come with a full length album by the band set to be released in the new year.
"We wrote and recorded this EP in a month as a sort-of challenge for ourselves," says frontman Caleb Chapman, "an early Christmas present, if you will." It was produced by Grammy Award-nominated producer Brent Milligan (The Elms, Charlie Peacock, Backstreet Boys) and recorded at their family owned studio, Someday Studios. Caleb continued, "'Waiting For My Time To Come', the second song on the EP, basically sums up where the band is at this point in time. It reflects the new approach and strong start we're taking in this new season, all the pressures that go along with that, and also serves as a reminder to enjoy this journey." The band is comprised of all the same members as before; brothers Caleb and Will Chapman, plus longtime friend and guitarist Scott Mills.
Yesterday, MetroLyrics premiered the lyric video for the first song "Keep On Keeping On," which you can check out HERE on YouTube.
The video features old home movie footage of Caleb and Will from 1996 when they were 7 and 6 years old (respectively). It shows the first instruments they owned and the ones they learned how to play on. At the time, they liked to call themselves "The Travelers" and practiced together (as shown in the video) just about every day.
Last week, Colony House were included on the second annual release of Tone Tree Music's Nashville Indie Spotlight sampler. The album (Available on iTunes HERE) is made up of 30 songs from 30 of Nashville's best songwriters and performers, including LEAGUES, Hammock, and Angel Snow. "Caught Me by Surprise," off Colony House's upcoming full length, sits at track 14. More information about the compilation is available HERE.
During a recent visit to Austin, Colony House stopped by SoFar Sounds' "Songs From a Room" to perform some of their new material live in front of an intimate audience. You can watch their video of "Won't Give Up," off the upcoming full-length album, HERE. Afterwards, SoFar stated "It's evident this band wears their hearts on their sleeves, plus they've got that irresistible Southern charm going for them. So if romance is what you're after, cozy up to Colony House."